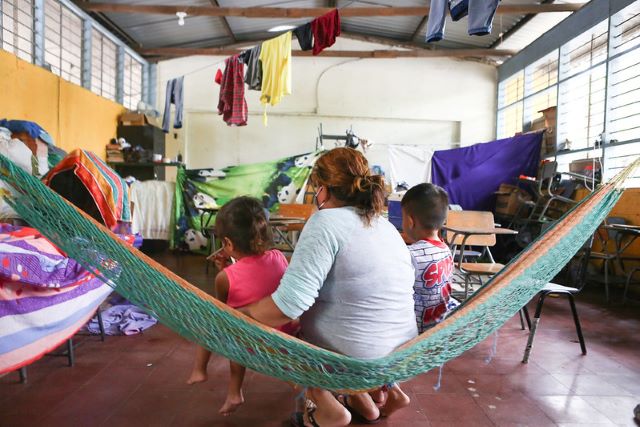 In November 2020, Hurricane Eta and Hurricane Iota made landfall just two weeks apart in northeastern Nicaragua. The hurricanes spread across Central America. Honduras was one of the countries hit with severe destruction. In the wake of these storms, homelessness in Honduras reached all-time highs and an active humanitarian crisis unfolded as humanitarian organizations and policymakers struggled to contend with flooding, displacement and the spread of COVID-19. The aftermath of hurricanes in Honduras requires urgent humanitarian aid.
Poverty in Honduras
Nearly half of Honduras' population lives in poverty. The poverty rate is higher in rural parts of the country than it is in urban centers. Whereas half of all Hondurans who live in the countryside subsist in varying states of poverty, less than half of all Hondurans who live in urban areas lead lives plagued by poverty,
The disparity between rich Hondurans and poor Hondurans is overwhelmingly large. A robust middle-class has yet to take shape in Honduras so Hondurans filter into one of two polarized class groups. A high rate of violence makes life treacherous for the poor.
Seasonal flooding has a detrimental effect on economic growth. Flooding from Hurricane Eta and Hurricane Iota combined with seasonal flooding make 2020 one of the worst years in Honduras' history. Livestock and farmlands were swept away and Hondurans have had to search desperately for other means to feed themselves.
Homelessness and Hurricanes in Honduras
In 1998, three million Hondurans were made homeless by Hurricane Mitch and tens of thousands were forced to flee to the United States. The devastation that was unleashed by Hurricane Mitch is the closest analog to the combined effects of Eta and Iota. Reports on the rate of homelessness in Honduras after Eta and Iota remain incomplete, but it is undoubtedly high, similar in scope to the rate of homelessness in Honduras after Hurricane Mitch.
7 Responses to Hurricane Eta and Hurricane Iota
Public Investment in Infrastructure and Social Programs. Honduran President Juan Orlando Hernandez plans to engage "four times the nation's annual budget in infrastructure and social programs to help Hondurans recover from devastating storms." His plan will put thousands of Hondurans to work rebuilding the nation's infrastructure, so it works on two important levels. First, his plan creates jobs for Hondurans whose livelihoods were lost as a result of the hurricanes. Second, it will lead to necessary rebuilding projects.

USAID Funding. By the beginning of December 2020, USAID had committed close to $50 million for humanitarian aid to meet the needs of Honduras' relief efforts. Funding goes to securing "emergency food, shelter, urgent medical care, clean water, sanitation and hygiene."

USAID's Honduras Emergency WASH and Shelter (HEWS) Program. In mid-December 2020, USAID announced that it will send packs of materials to "select families" through its HEWS program, which families can use to rebuild damaged or destroyed homes. Experts will also be sent to teach families how to use the material that has been sent and to work alongside families during the initial stages of the rebuilding process.

Project HOPE Emergency Medical Teams. In remote villages, where poverty rates tend to be highest, villagers have scarce access to medical services. Project HOPE medical teams focus on these locations because unsanitary water supplies have been identified there. Also, cases of COVID-19 have been reported.

Project HOPE WASH Program. Potable water is provided to 3,000 families through Project HOPE's WASH program. Additionally, resources for sanitizing water, including chlorine and training materials, are provided to families so that water purification practices can be carried out indefinitely.

AMDA Emergency Relief. Relief supplies, including food, coverings and hygienic supplies, were distributed to several dozen families through a partnership between AMDA and AMDA-Honduras. The rate of homelessness in Honduras is so high that many people have taken shelter in nursing homes. Hondurans who lost their homes as a result of Eta and Iota live side by side with Honduras' elderly. Similar AMDA relief packs were distributed throughout such facilities.

Distribution of KN95 and Surgical Masks. Concerns about the spread of COVID-19 have accompanied the disastrous effects of Hurricane Eta and Hurricane Iota. Project HOPE distributed hundreds of thousands of KN95 and surgical masks to activists, doctors and frontline workers throughout Honduras to help contain the spread of COVID-19.
Hope on the Horizon for Honduras
Hurricanes in Honduras coupled with COVID-19 created severe consequences for people living there. Long-term concerns include the effect that lack of adequate health services will have on mothers, pregnant women, newborns and young children. Many humanitarian organizations are prioritizing aid to remote parts of the country to mitigate the effects of isolation. The spread of disease is an additional concern. A comprehensive solution to the crisis at hand will involve combined efforts.
– Taylor Pangman
Photo: Flickr
https://borgenproject.org/wp-content/uploads/logo.jpg
0
0
Lynsey Alexander
https://borgenproject.org/wp-content/uploads/logo.jpg
Lynsey Alexander
2021-01-01 01:30:35
2021-02-01 06:40:50
Hurricanes in Honduras: 7 Responses to Eta and Iota