The Borgen Project is a 501(c)(3) nonprofit organization. All donations are tax-deductible to the fullest extent allowed by law. For more information contact [email protected] or 253-433-7118.

IRS EIN: 20-0536470
Downloads
2020 Percentages
Financial Monitoring and Reporting
The Borgen Project is committed to transparency regarding financial monitoring and reporting. Our monitoring and reporting process involves the following individuals and agencies.
Outside Accountant #1: The Borgen Project's bookkeeping and financial tracking is managed by an outside Accountant (not a staff member).
Outside Accountant #2: An accounting firm, separate from the Accountant who handles the day-to-day financials, reviews and files The Borgen Project's annual report to the IRS (Form 990).
IRS: As with all nonprofit organizations, The Borgen Project reports annually to the IRS.
Secretary of State: As an organization based in the state of Washington, The Borgen Project also submits financial information annually to Washington's Secretary of State for review.
Board of Directors: The Board of Directors also reviews financial information at every Board Meeting.
President: The President of The Borgen Project monitors all of the organization's financials and reviews bank statements. The organization also utilizes software that provides real-time data on spending and gives detailed reports.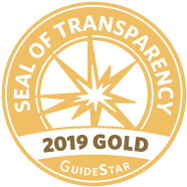 The Borgen Project received the Gold Star Seal of Transparency from GuideStar, the world's largest source of information on nonprofit organizations. Read the entire GuideStar profile of The Borgen Project.
Helpful Links