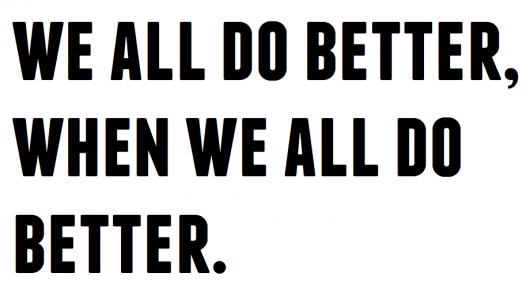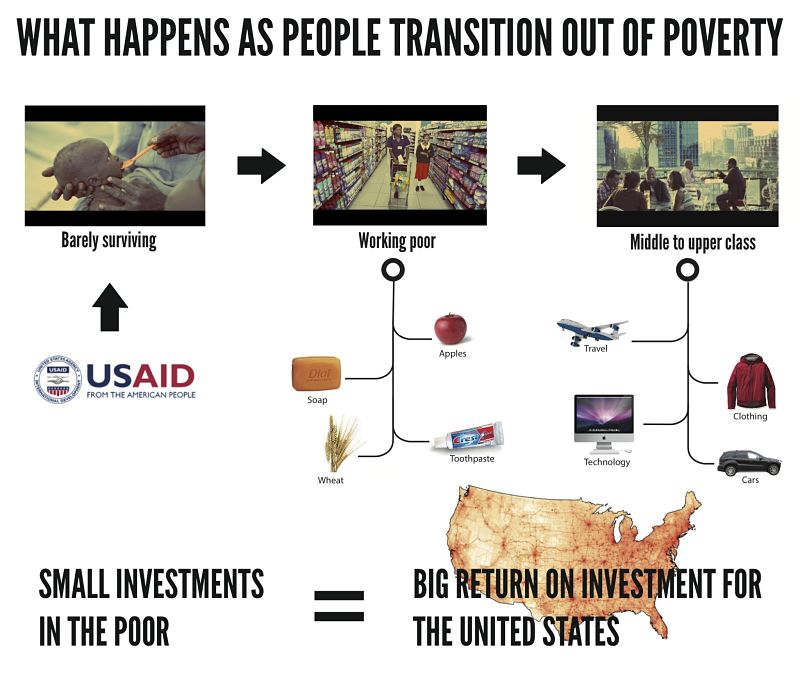 The Return on Investment of Helping People out of Poverty

Key Points: Global Poverty and U.S. Jobs
History has shown that as people transition from barely surviving into becoming consumers, it opens new markets for U.S. companies and creates American jobs.
1 out of 5 U.S. jobs is export-based and 50 percent of our exports now go to developing nations.
From Germany to South Korea, nearly all of the United States' top trading partners were once recipients of U.S. foreign aid.
Foreign Policy Magazine describes the world's poor as the largest untapped market on earth.
Less people in poverty = More consumers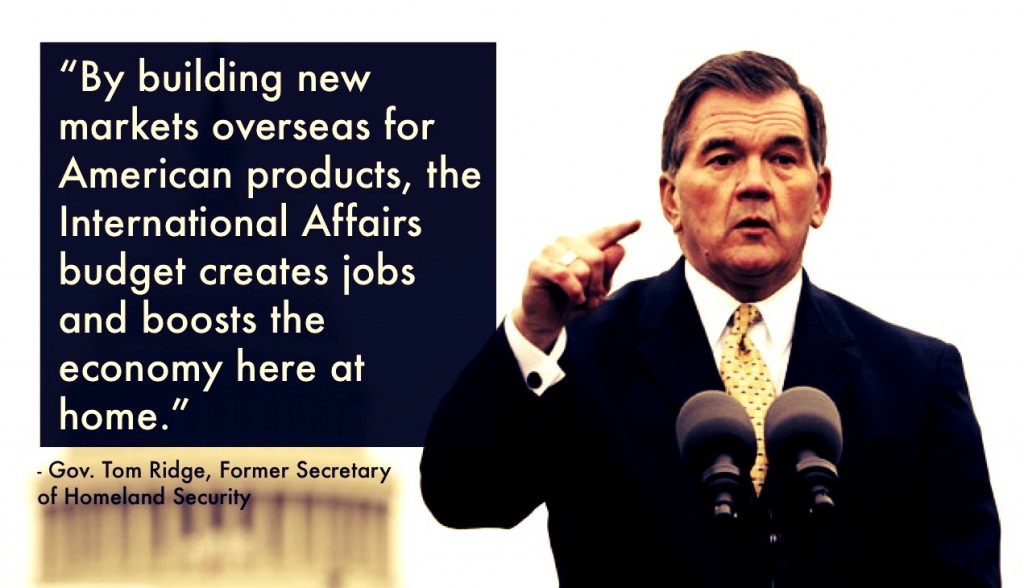 TOP COMPANIES TELL CONGRESS TO PROTECT AID PROGRAMS
In July of 2012 more than 50 major companies sent a letter to Congress urging that the International Affairs Budget be protected. Above are a handful of the major companies who believe it's in the economic interest of their companies for the United States to increase foreign aid spending and address poverty.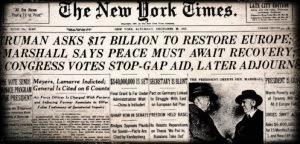 THE MARSHALL PLAN
After World War II, with GIs coming home in search of work, U.S. leaders did the unthinkable… They invested the equivalent of $110 billion in today's dollars, overseas, rebuilding our allies and enemies alike. The return on investment for providing aid to Europe has been enormous. The U.S. now exports $318 billion of goods annually to EU nations. Read the transcript of the Marshall Plan Speech.
AID = INVESTMENT
Dunkin' Donuts Opens in Africa
Dunkin' Brands from Massachusetts recently opened its first African Dunkin' Donuts in Egypt and announced plans to develop more than 250 Dunkin' Donuts and 70 Baskin-Robbins outlets in South Africa.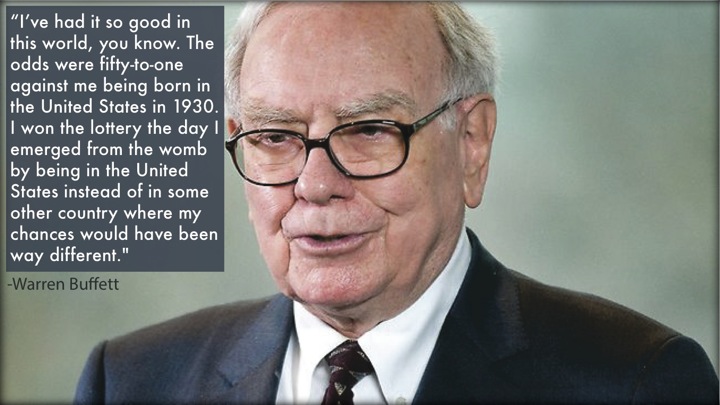 Supporting Documents:
Boeing's Largest Order Ever Comes from an Indonesian Airline


In November of 2011, when Boeing announced the largest deal in the company's history to date, 230 jets. Most people were shocked to learn that the deal wasn't with a North American or European Airline. The $22 billion deal went to Indonesia's Lion Air. Once among the poorest countries in the world, aid investments by the U.S. and it's allies have improved living conditions for millions of people in Indonesian resulting in a rising middle class. Aid investments have not only improved life for millions of people in the region, but as the world's fourth most populated country, with over 248 million people, Indonesia's poverty-reduction has created millions of new consumers of U.S. goods and products.
(The Seattle Times)

Meet the New Consumers of U.S. Products:
The World's Fastest Growing Economies
Ethiopia 9.7
Turkmenistan 9.1
Democratic Republic of the Congo 8.6
Myanmar 8.3
Uzbekistan 7.9
Cote d'Ivoire 7.8
Papua New Guinea 7.6
India 7.6
Bhutan 7.6
Mozambique 7.3
Annual average GDP growth % (2014-2017)
(Business Insider)
1.1 Billion Potential Techies in Africa
Tech companies are racing to get more Africans connected to the internet. Google has launched Project Loon which will use high-altitude balloons to beam WiFi to remote regions. Facebook recently opened its first office in Africa to encourage advertisement across the continent and plans to open several more. Microsoft now has 22 offices in Africa. The company's 4Afrika initiative is focused on accelerating growth on the continent and getting people access to technology.
Mobile phones are the primary access point to the internet for Africans. As the continent approaches 1 billion mobile subscriptions, U.S. companies are focusing on delivering low cost smartphones. Google currently supplies 89% of all smartphones shipped in Africa, 45% of which are priced below $100. Microsoft developed a smartphone as part of its 4Afrika program. The chip maker Intel also developed its own smartphone for the African market, Yolo, which sold 5000 units within two weeks of its launch.
Marriott Bets $200 million on Africa's Future

Predicting Africa is the next Asia, in 2013 Marriott agreed to a $200 million deal that would give it an extra 23,000 rooms across Africa.

"Africa has significant untapped potential for travel and tourism, both as a destination and source of new global travelers. The continent's GDP is anticipated to grow at over five percent annually over the next several years which we expect will raise more people into the emerging middle class,"
– Arne Sorenson, Marriott CEO.
"From an economic perspective, what happens in one country has ripple effects throughout the world."
– Chris Policinski, CEO Land O'Lakes
"We have no choice but to stay engaged in the world. 95% of the people we want to sell something to live somewhere else, and America's access to and leadership in foreign markets is critical. We're the largest exporter by a significant factor, and we need to capitalize on that."
– Thomas J. Donohue, President U.S. Chamber of Commerce
"We need to stop viewing it as aid. It's an investment."
– Former Secretary of Defense, Chuck Hagel (R-NE)
"Reducing global poverty is in our nation's best interest, and a sustained collaboration between the private sector and the government is needed in this regard."
– Carly Fiorina, Former CEO of Hewlett-Packard Company
"The growth of the developing world presents a major economic opportunity for American business today and a thousand opportunities tomorrow… We urge American companies to roll up their sleeves, get out there and engage with the economic opportunities that are emerging across the world. This is a moment to lean forward and take the kind of informed risks that have led to some of our greatest successes."
– Former Secretary of State, Hillary Clinton