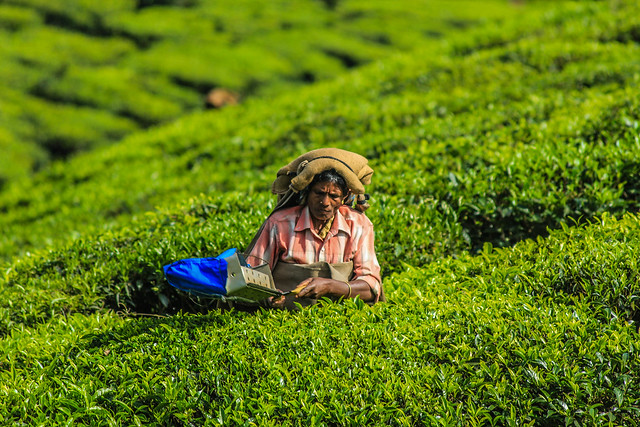 As 34 Numi Organic Tea sourcing countries supply an array of coveted spices and herbs that make the golden standard of Numi teas, these communities also benefit from the social good of their international partnership. Developed through Numi's commitment to working alongside farmers, the Numi Foundation assists in the betterment of social good and educational successes in their partnering communities.
A brother and sister team co-founded Numi Organic Tea. Ahmed Rahim is a creative leader in his field and has worked in merging the arts and nature in inner-city communities, working closely with numerous nonprofits. Reem Rahim Hassani is responsible as Numi's chief brand officer and artist for specially curating the Numi brand and marketing campaign development.
Together for H2OPE in Numi Organic Tea Sourcing Countries
When Numi Organic Tea discovered their turmeric sourcing partners in the African Republic of Madagascar had never had a clean water supply in their lives, the Numi Foundation raised $80,000 to build 23 water wells across the 12 villages of their turmeric farming community. This was the first Together for H2OPE project in the brand's history. The tremendous upscaling of their water supply helps more than 4,000 people.
As co-founder Reem Rahim Hassani said, "What is tea without water? What is Numi Organic Tea without its farmers? At Numi, we believe everyone deserves the right to clean, safe drinking water."
Since the first Together for H2OPE project back in 2016, the foundation has carried on their success with their Numi Organic Fair Trade Certified TM black tea source partner in India. Around 6,500 Tongonagaon Tea Estate residents have been supplied with long-term access to clean water. In 2019, Together for H2OPE made a serious sanitation effort in Northern India, building more than 500 toilets, 600 showers and more than 1,000 water filters in collaboration with the Women's Earth Alliance.
Now, Together for H20PE has plans to install similar water and sanitation solutions in the Numi Organic Tea sourcing countries of Egypt, on their mint and chamomile farms, and South Africa, on their rooibos farm.
Iraqi Summer School
In one of their more intimate projects, the siblings partnered with the Iraq Foundation to give back to their home country. Collectively, they have created an educational summer school program in Baghdad to help the war-torn country restore students' education.
Iraq has experienced war that has led to one in six Iraqi children becoming orphans and falling behind in their schooling With Numi's Iraqi Summer School, students directly impacted by the war can complete sixth grade educational classes in English, math, science and art.
A pilot program of the Iraqi Summer School has launched and the partnership will foster 10 more new summer school programs in Baghdad to continue student progress and development amid displacement, trauma and war-related loss.
The NUMI Art Curriculum
The NUMI Foundation's Art Curriculum is intended to instill emotional security and appropriate coping mechanisms in children to induce self-expression, respect and other pillars of character. The material covers a variety of sensory arts, including painting, sculpting, music and therapeutic movement.
Comprised of two-hour weekly lessons, the five working worlds for children inspire the teachings: the Individual, the Family, the Community, the World (which includes nature and animals) and Art History.
The NUMI Social Studies Curriculum
The ending model to NUMI's Curriculum provides K-6 social studies course material that thematically approaches topics on a multicultural level, ranging from structures of government to the native tribes of Costanoan people.
Teachers and after-school instructors can draw inspirational ideas from this curriculum, using it to amplify other lessons or teach it as is during the academic school year. Curriculums are designed for mixed grade levels.
After traveling to remote places for the finest quality herbs available for their teas, it's no wonder Numi goes to great lengths to celebrate the people of Numi Organic Tea sourcing countries.
– Grace Kim
Photo: Flickr
https://borgenproject.org/wp-content/uploads/The_Borgen_Project_Logo_small.jpg
0
0
Lynsey Alexander
https://borgenproject.org/wp-content/uploads/The_Borgen_Project_Logo_small.jpg
Lynsey Alexander
2020-07-09 15:24:51
2020-07-09 15:26:59
Numi Organic Tea Sourcing Countries Benefit from Social Good