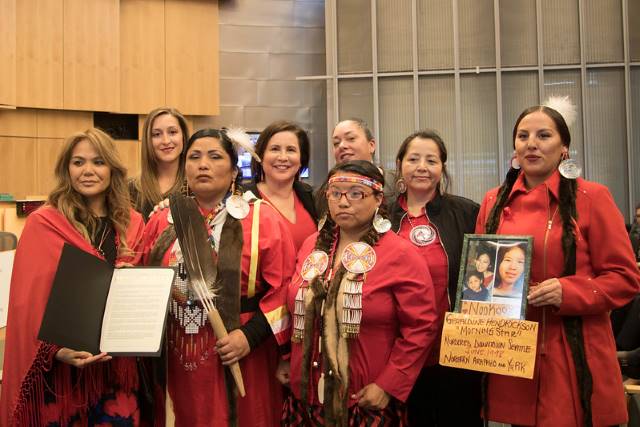 The 2017 film, Wind River, based on actual events, riveted the public with its reported death rate of Native American women on American reservations. Writer-producer Taylor Sheridan aimed to raise awareness of the overlooked death rate and has succesfully done so since.
Violence Against Indigenous Women
Where poverty is the greatest, indigenous women experience domestic violence rates 10 times higher than the national average for all races. In addition, 84% of Native American women experience violence in their lifetimes or one in three each year. The perpetrators are most often non-Native men outside the jurisdiction of tribal law enforcement.
Murdered indigenous women numbers rose to 500 in 2018, which is a low figure compared to the actual number of missing persons on reservations. Women have silently died and gone missing, underreported, for years. This is due to the discordance that exists between tribal, federal and local law enforcement. However, changes are being made ever since the 1978 ruling of Oliphant v. Suquamish, where it was ruled that Indian courts have no criminal jurisdiction over non-natives. In November of 2019, President Trump signed an executive order to investigate the matter of unsolved cases of missing or murdered Native Americans.
Legislatively Addressing the Issue
Several major changes have since been underway. For example, the Not Invisible Act of 2020 will increase national focus on violent crime against indigenous people and intergovernmental coordination on the high death rate of Native American women. This bill began in 2019 as the Not Invisible Act of 2019; the first bipartisan bill in history to be introduced by four tribal representatives: Deb Haaland, Tom Cole, Sharice Davids and Markwayne Mullin.
To complement the Not Invisible Act, Savanna's Act became public law in October 2020. Named after Savanna LaFontaine-Greywind, a murdered young indigenous woman whose fetus was cut from her womb, Savanna's Act will ensure the Justice Department reports statistics on all missing/murdered native women and reform law enforcement. In addition, the National Institute of Justice has created the National Baseline Study which is a study on the health, wellbeing and safety of Native American women, to also provide more accurate data on femicide.
Safe Women, Strong Nations
In addition, the Safe Women, Strong Nations project partners with native nations to combat abductions and murder. The project provides legal advice to the tribes in restoring authority and holding perpetrators responsible. The project works to raise awareness to gain federal action to eliminate the violence against native women.
Poverty makes it easier for native women to be overlooked. One in three Native Americans suffer from poverty, living off on average $23,000 a year. "Poverty is both the cause and the consequence of all the ills visited upon Native Americans." It is common knowledge that poverty provides leeway for criminality, and with Native American reservations being economically disadvantaged, this is no exception. Addressing systemic poverty instead of turning a blind eye will help lower the death rate of native women. The reservations only need opportunity and U.S.  juridical attention. It is hopeful to see that the United States' legislative representatives are addressing violence against minority groups but more work needs to be done to protect the well-being of Native American women.
– Shelby Gruber
Photo: Flickr
https://borgenproject.org/wp-content/uploads/logo.jpg
0
0
Jennifer Philipp
https://borgenproject.org/wp-content/uploads/logo.jpg
Jennifer Philipp
2021-02-18 06:22:09
2021-02-18 06:25:43
Addressing the Deaths of Native American Women