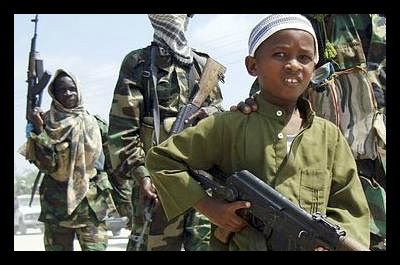 More than 250 children have been freed from a South Sudanese militant group called The South Sudan Democratic Army Cobra Faction. The militia has been fighting for four years, hoping to win greater rights for the Murle ethnic group.
After a peace agreement between the militia and President Salva Kiir's government was finalized, the boys, ages 11-17, were released after years of toting AK-47s, raiding homes and cattle farms and taking part in deadly revenge attacks throughout South Sudan. Hundreds gathered in Gumuruk, South Sudan to watch the child soldiers be released back to their homes and families, although many have been displaced or killed.
The release of the 280 boys is the first of a series of releases that will eventually free an estimated 3,000 children from the militia. According to UNICEF, approximately 12,000 children have been forcibly recruited by armed groups to fight the civil war, which has increasingly worsened since December of 2013.
South Sudan has been riddled with violence and poverty for years, and the civil war has provided a cruel security for the young soldiers. One child soldier, 12-year-old Steven, said that he joined the militia willingly three years ago.
"There was nothing for me in Pibor – no roads or hospitals or even schools. Sometimes there was no food … But life in the faction was not good. There is no rest," reported the child soldier.
Another boy, James, 13-years-old, said he joined after the deaths of his sister, uncle, grandfather and other family members. The military can provide shelter, water, purpose and a sense of safety.
Many of the freed children express their concerns of their unpredictable futures. With more than 1.5 million people displaced since the war, many of the boys have no way to contact their families, if they are even still alive.
At the ceremony on the day of the soldiers' release, a former leader wiped tears from his eyes as the children recited their military chant for the last time. He said to the young children: "That song you sing, that is an adult struggle."
UNICEF and many others are working to pave a path to success and peace for the young boys. After witnessing and participating in the horrors of the civil war, the boys are left with nightmares and instability. Counseling and social support will be provided to each child, depending on individual experiences and reactions. Family tracing units have been set up and hope to reunite as many children as possible with families. The most important thing to provide for these children is a sense of normalcy and a protective environment, free from violence and war. Many of the young boys are most looking forward to education.
"I don't know how long I've lived in the faction— I don't know how to count. I want to go to school now. I have never been to school," said Joseph an 11-year-old.
The release of the child soldiers and the peace agreement gives a small sense of hope that the end of a civil war in South Sudan may be near.
– Alaina Grote
Sources: BBC, Euro News, The Guardian, Reuters, Thomson Reuters Foundation
Photo: Amazon AWS
https://borgenproject.org/wp-content/uploads/logo.jpg
0
0
Borgen Project
https://borgenproject.org/wp-content/uploads/logo.jpg
Borgen Project
2015-02-08 04:00:27
2020-07-17 21:25:02
Child Soldiers Freed in South Sudan