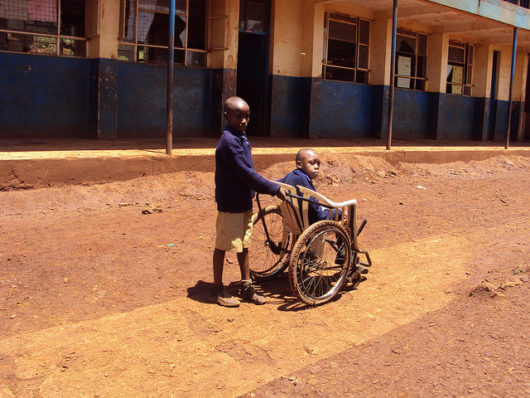 One in ten Kenyans under the age of 21 is disabled. In Kenya, several women feel the pressure from their communities and family members to either kill or give away their disabled children. Disabled Rights International interviewed several mothers of disabled children who claimed that disabled children are referred to or often called idiots, subhuman, imbeciles, abnormal and a burden.
Other reasons for child abandonment and even child killings are that the family will not be able to afford medical bills or that the child will be unable to live a full life. Kenyan women are usually ostracized by their community for raising a disabled child and are either said to be cursed or that the child is cursed. If these women are unable to gain enough support, they will be more likely to give up or even kill their child.
Awareness about Disabilities
A contributing factor to the treatment of disabled children in Kenya is that little to no information is known about disabilities. Women in Kenya are rarely told that their child has a disability when they are born, and they are sent home without any sort of information.
In the survey conducted by Disabled Rights International (DRI), 93 percent of women only found out their child had a disability after taking them home. Some doctors refuse to treat the child, claiming that they are contagious. A lack of education about disabilities and the future life of the disabled person has a large impact on the treatment of disabled children.
Institutions for Disabled Children
Some disabled children in Kenya are given away to overcrowded institutions. Disabled children are separated from nondisabled children in specific institutions that are less sanitary and underfunded. In Kenya, the children in orphanages have living family members, but they are typically abandoned due to their family's inability to care for them. Institutionalized children with disabilities spend their whole lives in institutions because, even as adults, they have nowhere else to go. The DRI found that some of these institutions even put these children in restraints or isolation rooms.
The problem with these institutions is that the donations that they receive from different organizations and mission trips are often not used for the children. The DRI found that several orphanages who benefited from donations or mission trips were still not suitable for children, although these funds were provided for this purpose. One organization, Child in Family Focus, advocates for family-focused relief efforts rather than donating money to these institutions, so that a family can keep and raise their child. The group focuses on advocacy, deinstitutionalization and lobbying for child protection policies.
Able Child Africa
Around 100,000 disabled children in Kenya are out of school, meaning that they do not have access to even a basic education. Organizations like Able Child Africa are trying to change this situation. One of their current projects involves disabled children who are out of school in inclusive sports clubs. The inclusive club means that both non-disabled and disabled children are participating in the same club. These sports clubs are held at local schools where the organization hopes the children will eventually enroll. The project began in 2015 and has been granted more funding so that the organization can range across two of Kenya's school districts.
Organizations like Child in Family Focus and Able Child Africa are fighting for the better treatment of disabled children, whether by simply involving disabled children in activities at schools so that they enroll in school and have access to an education or by keeping them with their families.
As the stigma behind disabilities fades and people become more educated about disabilities, disabled children in Kenya can possibly have better care and a better future.
– Olivia Halliburton
Photo: Flickr
https://borgenproject.org/wp-content/uploads/The_Borgen_Project_Logo_small.jpg
0
0
Kim Thelwell
https://borgenproject.org/wp-content/uploads/The_Borgen_Project_Logo_small.jpg
Kim Thelwell
2018-11-01 01:30:06
2019-05-23 13:26:49
Treatment of Disabled Children in Kenya