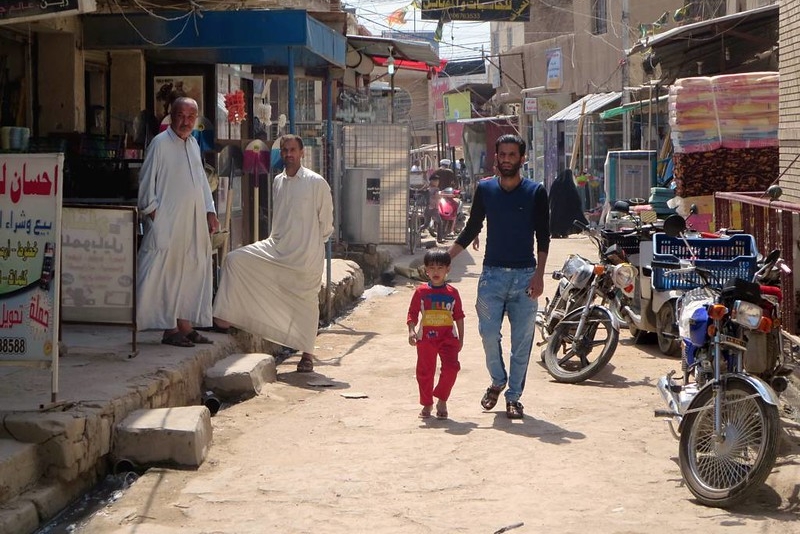 According to the World Food Programme (WFP), the poverty rate in Iraq reached 31.7% in 2020. Oil and gas production dominate many countries within the Middle East and gas production and Iraq is no different. The World Bank claims that Iraq is "one of the most oil-dependent nations" in the world, with oil revenues accounting for "99% of its exports, 85% of the government's budget and 42% of Iraq's GDP." Unlike other oil-rich countries, Iraq has failed to turn the abundance of natural resources into profit and benefit the average Iraqi's life. Corruption and conflict have decimated Iraq, displacing 1.2 million Iraqis and leaving 2.4 million people in need of food and livelihood assistance, according to WFP. Here is everything to know about poverty in Iraq.
Iraqi Civil War
Iraq has long been a divided country. Center for Strategic and International Studies (CSIS) believes increased "levels of violence, sectarian and ethnic divisions, population pressure, religious extremism and intervention from outside states" as key contributors that empowered ISIS and helped lead Iraq to civil war.
"In 2014, the Islamic State advanced into Iraq from Syria" and took control of most of northern Iraq. The terrorist organization proceeded to use horrific acts of violence whilst it controlled major Iraqi cities such as Mosul. The U.S. "formed an international coalition that now includes nearly 80 countries to counter the Islamic State," Council on Foreign Relations (CFR) states.
Whilst ISIS was eradicated from Iraq in 2017, the damage had already been done. Iraq is yet to fully recover from the conflict. CFR reports that "more than 2 million people remain internally displaced and 9 million remain in need of humanitarian assistance" following the conflict.
Many major cities face huge reconstruction due to the complete devastation caused by the war. The total reconstruction could cost at least $88 billion. This is a price that the Iraqi government simply cannot afford. Thus, much of Iraqi infrastructure is still not functional and many Iraqis are still yet to return to their original homes.
Oil and Corruption
According to Transparency International, Iraq ranks 157th in the Corruption Perceptions Index, having a score of 23/100 in 2022. The National Interest stated that Iraqi officials stole money that the country could have used to fight ISIS and rebuild the nation.
Estimates vary on how much money has gone missing in Iraq, but some suggest that the country has lost as much as $300 billion since 2003. This money could have helped rebuild Iraq after the conflict with ISIS, whilst also helping to tackle the ever-growing poverty crisis in Iraq.
With the majority of revenues generated coming from oil exports, the corruption in Iraq has significantly impeded the development of non-oil business sectors. Resulting in continual dependency on high oil prices.
Average Iraqis never seem to see the benefits of oil profits due to the ongoing corruption. The Iraqi government has seemingly failed to provide adequate basic services for the Iraqi population. Protests in 2019 appeared to engulf major cities such as Baghdad due to the failure of the government to provide jobs and life improvements to young people despite an increase in oil production.
According to AP News, overall unemployment in Iraq is 11% whilst "one-third of Iraqi youth are without jobs." This is all while the World Bank expected Iraq's GDP to grow by 4.6% due to increased oil exports.
Poverty and Unemployment
The World Bank stated that in 2021 Iraq's unemployment rate was "more than 10 percentage points higher than its pre-COVID-19 level of 12.7 percentage points." It also states that unemployment amongst the "displaced, returnees, women jobseekers, pre-pandemic self-employed and informal workers remains elevated."
With the government's decision to devalue the dinar against the dollar by 20%, as Iraq produces very little, the public has little choice but to buy imported goods which are now more expensive.
NPR believes that due to the government's over-dependency on oil, it is imperative for Iraq to diversify its economy and increase its private sector. The result would be that many livelihoods would no longer be dependent on the state. Currently, when oil prices drop, unemployment and poverty increase.
Looking Ahead
Despite large oil profits generating substantial wealth, the money never appears for ordinary Iraqis who struggle to make ends meet. The failure to rebuild Iraq, large unemployment and violent conflict against ISIS have held Iraq back from becoming a more prosperous nation. A lack of action from the Iraqi government alongside systemic corruption has not helped the ever-increasing poverty epidemic in the country.
Although the future does not look too bright for the Iraqi people, the government has announced a reform plan. Finance minister Ali Allawi unveiled a plan to encourage investment by improving Iraq's infrastructure, bumping up tax revenues and stimulating agriculture, NRP reports.
If the government has the will and determination to see through the reform plan instead of relying on oil money, there is a chance that the government can improve the livelihoods of many Iraqis. This could significantly reduce poverty in Iraq and many of the displaced people could return home.
– Josef Whitehead
Photo: Flickr
https://borgenproject.org/wp-content/uploads/logo.jpg
0
0
Naida Jahic
https://borgenproject.org/wp-content/uploads/logo.jpg
Naida Jahic
2023-03-21 01:30:33
2023-03-20 10:20:52
Everything to Know About Poverty in Iraq