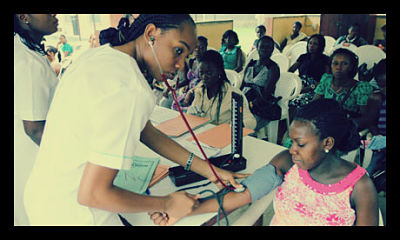 Modern technologies such as commercialized geolocation have many positive aspects in the developed world. Never before has it been easier to sate your Foursquare obsession while simultaneously tracking Peter Dinklage. However, the effects of geolocation in developing countries are a little more extreme, ranging from trailing Joseph Kony to helping pregnant women find hospitals within driving distance, the positives and negatives can get pretty extreme.
The Good
The UK Department for International Development has collected data concerning the distance between pregnant mother and hospitals facilitating childbirth. By overlaying the data collected by geolocation systems onto satellite imagery, the department was able to show that child mortality increases as the distance of a pregnant mother from a hospital increases. Disseminating information like this throughout impoverished communities encourages safe childbirth at clean hospitals and lowers child mortality.
The Bad
In conflict stricken countries, having a smart phone or even a slightly more advanced mobile phone can have dire consequences for the owner. Because of GPS applications, if someone is caught with a smart phone by a militant organization they will most likely be considered a spy. This makes even owning a smart phone capable of geolocation a risk.
The Good
Geolocation systems can also be used to help prevent civilian deaths in fragile countries where rebellion is common. "Geospacial analysis" has even been used to predict where Joseph Kony's militant group Lord's Resistance Army will attack.
The Bad
Since GPS systems are so sensitive and exact when pinpointing location, expressing political opinion through a device with GPS could be potentially dangerous for a citizen in an unstable country. Even corporations collecting data on citizens to use for marketing could be potentially dangerous if that information falls into the wrong hands.
– Pete Grapentien
Source The Guardian
https://borgenproject.org/wp-content/uploads/logo.jpg
0
0
Borgen Project
https://borgenproject.org/wp-content/uploads/logo.jpg
Borgen Project
2013-04-13 10:39:27
2020-06-07 21:59:19
The Good and The Bad: Geolocation in the Developing World