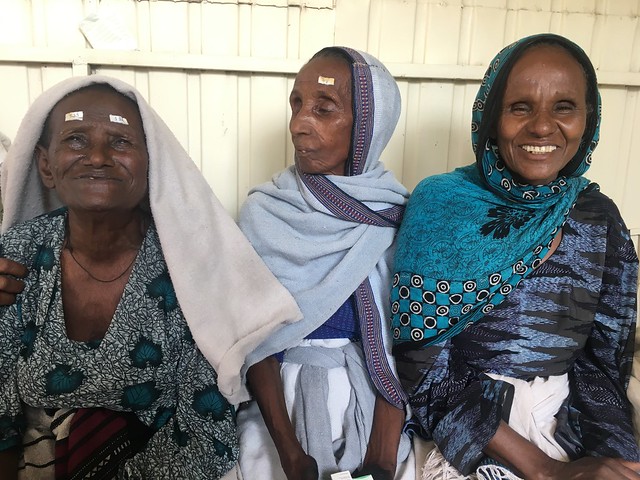 In 1995, Dr. Geoff Tabin and Dr. Sanduk Ruit launched the Himalayan Cataract Project to eliminate curable and preventable blindness in under-resourced Himalayan communities. The two founded their innovative campaign after recognizing that cataracts account for 70% of unnecessary blindness in Nepal. Cataracts, or cloudy, opaque areas in the eye that block light entry, occur naturally with age. Poor water quality, malnutrition and disease tend to exacerbate the issue in developing countries.
For years, Dr. Tabin and Dr. Ruit had seen Nepalese villagers take blindness as a death sentence. "It was just accepted that you get old, your hair turns white, your eyes turn white, you go blind and you die," Dr. Tabin told the Stanford Medicine magazine. But after Dutch teams arrived in Nepal to perform cataract surgery, he explained, "People came back to life. It was amazing."
The Strategy
The Himalayan Cataract Project delivers sight-restoring cataract surgery at a low cost. Dr. Ruit's groundbreaking procedure lasts 10 minutes and costs just $25. Today the organization has succeeded in providing permanent refractive correction for well over 500,000 people.
In an effort to leave a more sustainable impact, the project works from a "train the trainer" model that empowers community health providers and enhances local eye care centers. Rather than simply treating patients in need, specialists introduce new methods and technology to strengthen the practices of existing clinics.
As a result of these and other advances, the blindness rate in Nepal has plummeted to 0.24%, similar to that of Western countries. The Himalayan Cataract Project now operates in India, Tibet and Myanmar. Dr. Tabin has also initiated training programs in Sub-Saharan Africa, particularly in Ghana and Ethiopia. He hopes to see the same successes here as achieved in Asia.
The Link Between Blindness and Poverty
Addressing blindness is a critical step in the fight against poverty. Blindness prevents able-bodied workers from supporting themselves, shortens lives and reduces the workforce. Children of blind parents often stay home from school as they scramble to fulfill the duties of household caregivers and providers. In short, blindness worsens poverty, while poverty magnifies the risk of blindness.
The Himalayan Cataract Project aims to break the cycle of blindness and poverty. Studies have shown a 400% return on every dollar that the organization invests in eradicating curable and preventable blindness. Their procedures stimulate the economy by helping patients get back to work.
Individual success stories continue to power the organization. Adjoe, a 40-year-old mother from Togo, traveled to Ghana for surgery when she determined that her blind eye was hurting business. As a street vendor selling beans, she saw customers avoid her stand for fear of contagion. She consulted Dr. Boteng Wiafe, a partner of the Himalayan Cataract Project, who performed oculoplastic surgery and gave her a prosthetic eye. Carefully matching the prosthetic to the size, color and shape of her good eye, Dr. Wiafe ensured that Adjoe could return home to provide for her family once again.
Response to COVID-19
In recent months, the COVID-19 pandemic has brought a halt to live clinical training and elective surgeries, but the backlog of blindness continues to grow worldwide. Meanwhile, concerns about the virus may dissuade blind patients from seeking treatment for the next several years.
While eye care has been suspended, the Himalayan Cataract Project is using this time to redesign and restructure their programs so as to emerge even stronger than before. The organization is also working to equip partner clinics with information and resources to keep their patients safe. Some communities have even taken part in the shift to remote education and implemented a virtual training system.
Despite the uncertainty of the months ahead, the Himalayan Cataract Project remains firm in its commitment to fighting blindness and poverty. Its partner clinics around the globe have been tireless in their efforts to affirm that the poor and vulnerable will receive the eye care they need once patients can receive in-person treatment again.
– Katie Painter
Photo: Flickr
https://borgenproject.org/wp-content/uploads/logo.jpg
0
0
Jennifer Philipp
https://borgenproject.org/wp-content/uploads/logo.jpg
Jennifer Philipp
2020-07-15 01:30:59
2020-07-22 18:42:05
Himalayan Cataract Project Combats Blindness and Poverty Around the World