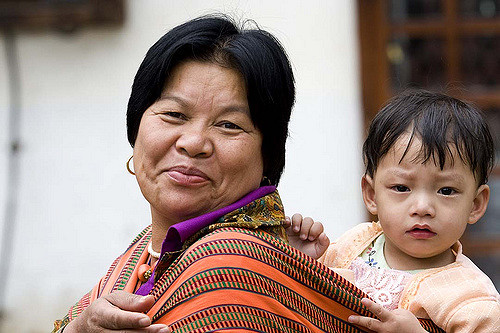 Bhutan is a tiny, isolated, primarily Buddhist kingdom in the Himalayas that has only permitted television since 1998. In a country that measures development by Gross National Happiness in lieu in of Gross Domestic Product, does it make sense to ask how to help people in Bhutan? Given the often discriminatory treatment of journalists, non-Buddhists, the disabled, women and especially Nepali-speakers, the answer is yes—this question should still be asked.
Bhutan has had an extremely rapid transition from an absolute monarchy to a constitutional monarchy with the establishment of political parties in 2007 and held its first election in 2008. The Freedom House upgraded the country's Freedom Status in 2009 from "not free" to "partly free," citing the below reasons:
Journalists surveyed in 2012 expressed grave concerns about freedom and personal safety.
Nongovernmental organizations (NGOs) that work on issues relating to ethnic Nepalese are not allowed to operate in Bhutan.
In 2007, Bhutan moved to a rule of law. The civilian police operate within the law and the Judiciary is considered autonomous.
The Anti-Corruption Commission (ACC), in answer to corruption within the government, was given more leeway and power. The most recent Prime Minister, Togbay, does not tolerate corruption, and many prior powerful politicians are now being held accountable.
In the 2017 Trafficking in Persons Report, the State Department Office to Monitor and Combat Trafficking in Persons determined that the government of Bhutan did not fully meet minimum standards for the elimination of trafficking. The government did demonstrate increasing efforts compared to the previous reporting period. In an example of how to help people in Bhutan, the National Commission for Women and Children (NCWC) partnered with an international organization to conduct training on anti-trafficking toolkits and also to facilitate reports on Bhutan laws and policies on trafficking. Bhutan, over the last five years, has still remained a source and destination country for both forced labor and sex trafficking.
Bhutan has no formal relations with the five permanent members of the U.N. Security Council and accepts financial assistance from primarily India, leaving Bhutan isolated from much of the world. It has recently shown a willingness to move toward democratic ideals and is also seeking to increase tourism after a long history of shunning foreigners. Learning how to help people in Bhutan means working to ensure adequate funding for the NGOs and other agencies dedicated to assisting the Bhutanese officials. One must work to stay vigilant and continue to support organizations dedicated to combating violations of human rights in Bhutan.
– Michael Carmack
Photo: Flickr
https://borgenproject.org/wp-content/uploads/logo.jpg
0
0
Kim Thelwell
https://borgenproject.org/wp-content/uploads/logo.jpg
Kim Thelwell
2017-10-02 07:30:40
2020-07-23 18:07:42
How to Help People in Bhutan