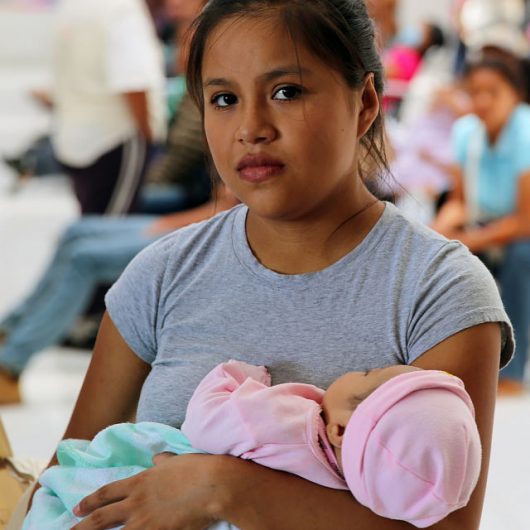 Eight years ago, The Economist, a British business publication, described maternal healthcare in Mexico as "a perilous journey." Although deaths in labor had decreased by over a third in the past 20 years, they still remained among the highest in Latin America. Preventable complications were common among women, especially those of indigenous descent, largely as a result of infrastructural and social challenges.
Maternal Mortality
Since then, substantial effort has been put into solving this problem, especially in anticipation of the 2015 Millennial Development Goals. Globally, maternal mortality is often the result of wider social problems related to extreme poverty. It especially affects poor rural women who lack access to modern medical facilities. Solving maternal mortality in Mexico requires implementing a wider health infrastructure that serves these disenfranchised groups.
In Mexico, one of the groups most vulnerable to labor complications is girls under fifteen years old. This is not a generational issue, but rather a result of the dangers of underdeveloped girls giving birth. Twenty percent of Mexican births annually are a result of teenage pregnancy. Half of the sexually active teenage girls in Mexico become pregnant and 11,000 of Mexico's births each year are to mothers between 10 and 14 years old.
While a proportion of these teenage pregnancies are the result of consensual encounters, some of them are the result of chronic child sexual abuse. One study found that a third of Mexican girls (and about a fifth of Mexican boys) had experienced sexual assault. Unfortunately, comprehensive statistics on the sexual abuse of children are relatively rare for developing countries, but it is likely that these high rates contribute to the phenomena of teenage pregnancy in Mexico.
Teenage Pregnancy and Healthcare Improvements
Ultimately, the key to achieving better maternal healthcare in Mexico lies in preventing teenage pregnancy and providing healthcare infrastructure. On the latter, the Mexican government has already established several programs targeting the country's rural poor such as the Oportunidades (Opportunities) program, and additional support from the Mexican social security program. Specific programs, such as PRONTO, train hospital staff to intervene in dangerous labors and have shown to help reduce maternal mortality.
However, the Mexican government has taken little action against ending teenage pregnancy. This represents a major blindspot in the path towards achieving improved maternal healthcare in Mexico.
Maternal mortality and labor complications are especially common among young mothers; mothers under 15 are twice as likely to die in labor as older mothers. Their babies are more likely to die as well. Many of these teenage pregnancies could be prevented with education and awareness programs, but most of Mexico's initiatives are geared towards older girls.
Supporting Maternal Healthcare
Several NGOs have taken initiative in reducing Mexican maternal mortality both by tackling infrastructure issues and generational sexual abuse. Conferences such as this year's International Best Practices Meeting bring together experts from various fields and international organizations to discuss the issue.
Specifically, the role of midwives in the prevention of labor complications has also been reinforced in Mexican society. Such a prioritization could increase women's access to maternal healthcare in Mexico, especially in rural areas.
Ultimately, despite the challenges facing Mexican mothers, there is hope that the danger of pregnancy in the country can be further reduced. Improved maternal healthcare in Mexico can be achieved with infrastructure and education, factors that also help combat extreme poverty in the country; only then, can Mexico truly achieve its development goals.
– Lydia Cardwell
Photo: Flickr
https://borgenproject.org/wp-content/uploads/The_Borgen_Project_Logo_small.jpg
0
0
Borgen Project
https://borgenproject.org/wp-content/uploads/The_Borgen_Project_Logo_small.jpg
Borgen Project
2018-08-10 01:30:28
2019-09-02 16:41:05
The Fight for Improved Maternal Healthcare in Mexico