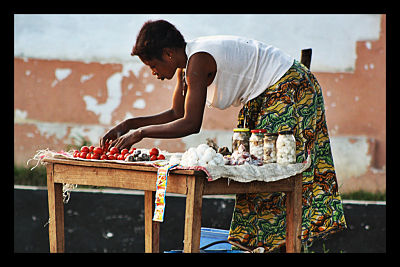 What is microenterprise? Microenterprise is the mom and pop shop on the corner. It is the lemon-aid stand on the side-walk. It is the vegetable stand in the local market. Microenterprises are entrepreneurs working towards a livelihood with a small number of products and often limited access to financial security and support.
USAID uses financing of microenterprises as an anti-poverty program. Economic growth on its own is not enough. Poor people in developing countries often do not share in the wealth creation. The distribution of income from economic growth through empowering poor people to participate is a crucial and fundamental challenge undertaken by USAID.
An additional challenge, particularly for women in developing countries, is finding a safe place to keep their savings. Without a reservoir of savings, obtaining credit and making investments in their business is next to impossible. The savings they do accumulate are often drained when natural disasters and social/cultural events occur. Their lack of access to insurance means they spend their available money on purchasing life saving medicine for an ailing relative or purchasing new seeds when drought kills a crop.
The USAID provides financial services to many of those lacking access through their national and private institutions. These services include savings and credit. These two basic financial tools allow entrepreneurs to invest in technology, connect to professional networks and most importantly, get their products to market.
The USAID microfinance programs have three goals:
1. "Improve the quality and affordability of financial services.
2. "Extend access to excluded populations such as women, the disabled, and those living in remote areas
3. "Assist smallholder farmers and small business entrepreneurs in selling their products by linking them with buyers and suppliers of good and services."
The approach USAID and partners use is called the Value Chain Approach. The VCA views each business as a unique cog in the intricate clockwork of the global marketplace. To assess the potential of projects VCA focuses on influencing "structures, systems and relationships that define the value chain." Manipulating these factors increases competitiveness by improving/upgrading processes and products. The scope of industry analysis and inputs to intervention design yield a unique perspective that has led to great success.
• "A market system perspective
• "A focus on end markets
• "Understanding the role of value chain governance
• "Recognition of the importance of relationships
• "Facilitating changes in firm behavior
• "Transforming relationships
• "Targeting leverage points
• "Empowering the private sector"
By working to fulfill these goals, USAID and entrepreneurs make higher quality products and increase the visible to consumers. In the experience of USAID, when micro financing options are offered alongside education, health and energy services, household earnings are increased allowing people to "graduate themselves out of poverty."
https://borgenproject.org/wp-content/uploads/The_Borgen_Project_Logo_small.jpg
0
0
Borgen Project
https://borgenproject.org/wp-content/uploads/The_Borgen_Project_Logo_small.jpg
Borgen Project
2013-05-29 04:00:23
2020-06-27 02:44:52
What is Microenterprise?