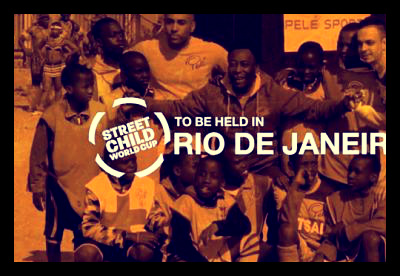 Three months before the FIFA World Cup takes over Rio, street children from 19 countries will arrive in the city to play in their very own World Cup.
For many of these children, the soccer tournament will be a first opportunity for them to be seen, heard, and to demonstrate their skills. The estimated 100 million children who live and work in the streets of the world's cities are overlooked and ignored at best- abused, exploited and trafficked at worst. They rarely receive protection from police or judicial systems, and are denied access to any social services that require school attendance or a permanent address.
The Street Child World Cup (SCWC) was started by the Amos Trust, a small London-based human rights organization, as an effort to use the popular sport to provide a platform for street children to be heard, to change their public perception, and to help realize their rights. The inaugural tournament involved eight teams and was played ahead of the 2010 World Cup in Durban, South Africa.
"When people see us by the streets, they say that we are the street boys," said Andile, a participant in the first SCWC tournament, according to the organization's website. "But when they see us playing soccer, they say that we are not the street boys. They say that we are people like them. They are people like us."
The organization has grown since its successful first World Cup, and this year will be flying 19 teams from around the world to and from Rio to compete in separate boys' and girls' tournaments.
Each national team is organized by a local street child NGO partnering with SCWC that supports kids before, during and after the tournament. These groups ensure that the children receive the IDs, passports and permission necessary for participation. In addition to impacting the lives of the children who participate in the tournament, SCWC seeks to use the event to raise awareness and visibility of these partner organizations and their causes.
The tournament and corresponding events will last for ten days, from March 27 through April 7. Each team will be paired with a different local school when they arrive in Brazil to participate in intercultural activities, soccer coaching and art workshops in which they will create works that depict their experiences and dreams to be displayed publicly in the city.
The 2010 tournament and resulting media coverage of the issues made great strides in transforming public perceptions of street children in South Africa and helped end police "round ups" of street children prior to international visits, according to Umthombo, SCWC's partner organization in the area.
Children also participated in a conference to form the Durban Declaration, sharing their experiences and thoughts on key themes of home, protection from violence and access to education. The declaration was presented to the UN Committee on Human Rights along with the governments of participating countries.
This year, Street Child World Cup will be supporting Brazilian organization O Pequeno Nazareno and their campaign for a national response to street child issues in Brazil. The organization is calling on the Brazilian government to institute the first ever public policy in the world on street children.
Although policies that address child labor and abuse already exist, there is nothing in place to address the specific needs of street children. The proposal O Pequeno Nazareno and SCWC will bring to the Brazilian government includes measures on education, family life and shelters, and calls for the creation of a national data bank of street children and regulation of the social educator profession. If passed, this policy could pave the way for others like it all around the world.
To learn more visit Street Child World Cup. Donate today to support street children and their right to live safe, healthy, and happy lives.
– Sarah Morrison
Sources: Ahran Online, Jakarta Post, Street Child World Cup
Photo: WOCOZOME
https://borgenproject.org/wp-content/uploads/The_Borgen_Project_Logo_small.jpg
0
0
Clint Borgen
https://borgenproject.org/wp-content/uploads/The_Borgen_Project_Logo_small.jpg
Clint Borgen
2014-02-28 09:39:50
2018-02-14 09:21:45
Street Child World Cup to Take Place in Rio