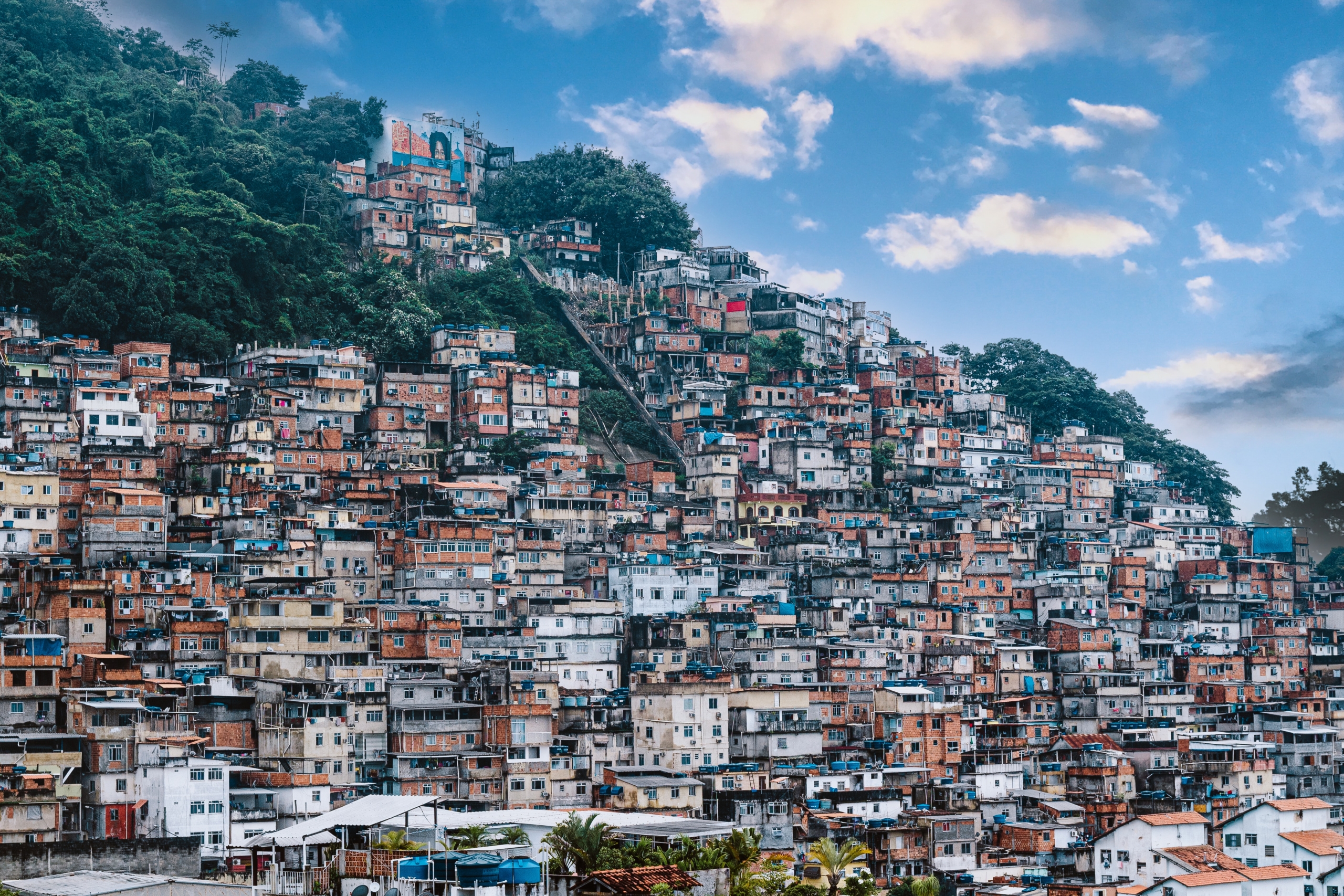 In Rio De Janeiro's favelas, there is a well-documented issue of police violence. The number of deaths continues to rise, with a disproportionately high impact on Black Brazilians who are nearly three times more likely to die due to police violence than their lighter-skinned counterparts. In 2022, Ms. E. Tendayi Achiume, a Special Reporter on contemporary forms of racism, expressed her concerns about the excessive and lethal use of force by Brazilian law enforcement. Unfortunately, reports suggest that these human rights violations persist unchecked.
In cases where institutions and states fall short in protecting vulnerable populations, grassroots initiatives have emerged to fill the gap. Organizations like DefeZap, Casa Amarela and others are actively striving to break the cycle of poverty and violence that plagues the lives of thousands of innocent favela residents in Brazil.
The Favela 
Rocinha is the largest favela in Rio De Janeiro. It is home to between 150 and 300 thousand people, all crowded into a space of .8 square miles. Rocinha is a steep, sprawling maze of houses built on top of each other, sometimes up to 10 stories high. The streets are dense with people, pavements are wide enough only for motorcycles. Heavy bootlegged electric wires hang just above the hairline of the sprawl. There are no safety regulations. Sanitation runs in a channel between houses. Disease is frequent, and with only two health centers for the whole population, many do not receive the help they need. Compared to other favelas, however, Rocinha has "relatively good infrastructure." Houses are built out of concrete, and businesses like banks and pharmacies operate freely. Rocinha even has electricity, running water and appropriated cable TV. It is a home, but it is unsafe. 
Rocinha is the largest favela in Rio de Janeiro, home to between 150,000 and 300,000 people, all crowded into a compact area of 0.8 square miles. The community is built on steep slopes, with houses stacked on top of one another, sometimes reaching up to 10 stories high. The narrow streets are often bustling with people, and the sidewalks are just wide enough for motorcycles. Informal, unauthorized electrical wires dangle dangerously above the streets, lacking proper safety regulations.
Sanitation facilities in Rocinha consist of open channels running between the houses, leading to frequent health issues. With only two health centers serving the entire population, many residents struggle to access the medical care they need. While compared to some other favelas, Rocinha boasts relatively better infrastructure, with concrete housing and the presence of businesses like banks and pharmacies. Basic utilities such as electricity, running water and even cable TV are available. It is considered a home to many, but it remains an unsafe and challenging environment.
Cocaine
In the 1970s, the introduction of cocaine laid the groundwork for the current situation in contemporary favelas. This led to the emergence of armed drug trafficking factions engaged in violent territorial disputes. Over time, these groups have become deeply entrenched in the local community. They buy land, provide infrastructure like electricity and cable TV and offer employment opportunities, especially to young men. With few other job prospects available, many residents feel compelled to accept these opportunities. Unfortunately, this situation has led to the unintentional criminalization of all favela residents by association.
A central element of this criminalization is the stigmatized image of the 'Bandido'—a portrayal of young, impoverished, Black individuals as inherently dangerous. This stereotype perpetuates the perception of favelas as impenetrable crime centers in the public's imagination, which, in turn, can encourage law enforcement to employ aggressive raid tactics.
Violence 
Violence in Rio de Janeiro's favelas has been a part of life since the 1980s. A public conversation around "Bandidos" shows how separate the favela is from normative Brazillian space. Nilton Cerqueira, Secretary of Public Security from 1995 to 1998, said in 1996 that the "Bandido is not a civilian." These comments came to light during a time of "Wild West Bonuses." In fact, the police received a salary bonus of 50-150% for demonstrating "fearless courage." Even after its abolishment in the early 2000s, the number of deaths remains shockingly high. In 2020, 1,245 people died due to incidents with the police in Rio de Janeiro. In 2021, the number was 1,356, and this rose to 1,330 in 2022. 
Resistance 
In the favelas, where the state often falls short in serving its citizens, various community organizations and NGOs have emerged to bridge the gap. One such noteworthy example is DefeZap. Established in 2016, DefeZap enables individuals to report instances of violence involving state agents anonymously and securely through WhatsApp. After documentation, these reports go to a Collaborative Investigation and Documentation Network, which, in turn, forwards them to the appropriate authorities. From 2016 to 2019, DefeZap received more than 300 video sources, contributing to more than 200 investigations. The organization's effectiveness and the positive outcomes it has achieved for favela residents have driven its expansion. In 2019, DefeZap and its technologies found application in the Human Rights Commission of the ALERJ (Legislative Assembly of Rio de Janeiro).
Casa Amarela is another involved organization. Casa Amarela operates out of the favela Morro da Providência, delivering "human and territorial development through art and culture." The group seeks to "reduce the social impact caused and maintained by the state's lack of assistance in the favela." Educational, artistic and cultural activities and classes are led by educators, residents and activists from the local area. Casa Amarela welcomes around 120 families and enjoys around 150 participants. Classes for ages 3–7, 8–13 and 14–21 help keep young people away from the militias and in education. Classes include skateboarding, boxing and music. Afro-dance lessons are also offered as a way to reinforce the "positiveness of the children['s] black skin" despite the demonization they face in Brazillian society. These young people can expect to be nurtured and inspired to dream of a better life for themselves and their families. 
Looking Ahead
Despite the challenging circumstances in Rio De Janeiro's favelas, residents persist in creating comfortable, beautiful and communal living spaces. Rather than solely depending on NGOs for support, they are taking action to ensure their voices are heard. For instance, on May 21, 2020, residents organized a protest to address the issue of violence against the black community. Their collective efforts resulted in a temporary reduction in police violence, and they remain committed to these actions until they achieve the freedom they seek.
– James Durbin
Photo: Unsplash
https://borgenproject.org/wp-content/uploads/logo.jpg
0
0
Yuki
https://borgenproject.org/wp-content/uploads/logo.jpg
Yuki
2023-10-26 01:30:51
2023-10-22 09:12:22
Violence, Poverty and Resistance in Rio de Janeiro's Favelas