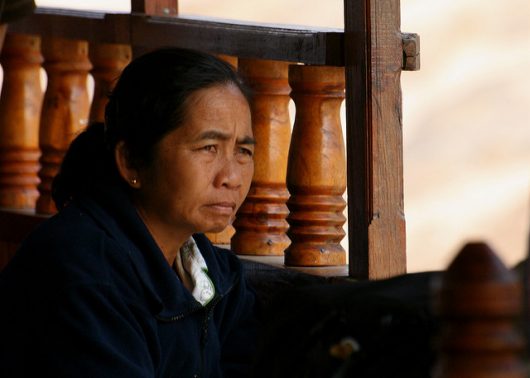 Lao People's Democratic Republic is a country in Asia with a total area of 236,800 square kilometers. Poverty has been steadily decreasing in Laos, with a 25 percent reduction in the poverty rate since the 1990s.
With this reduction in poverty, one would expect for women to be able to enjoy the benefits of development on equal terms with men. Despite laws that are supportive of women and what appear to be objectives in place to promote women's development, economic opportunities and participation, the reality is far different than it originally seems.
In government meetings, while there may be women present, they are mostly not participating. Instead, they are assigned menial tasks like serving tea and cookies. Even though there are some strong women making bold points occasionally, this is far from the norm in Laos. Additionally, it is more difficult for women to obtain credit. They also have more difficulty becoming managers and are usually in lower paying jobs.
Women living in remote and rural areas of Laos are the most disadvantaged, as they are often not allowed to fully participate in village activity processes. Men are usually considered the head of the household and represent their families at official meetings. Many women in Laos are illiterate and do not speak the national language used for education. This, along with the prevailing social and cultural norms, means that women are not comfortable sharing their opinions, and as a result rarely speak out.
There are many struggles faced by women-headed households due to problems such as child marriage, low secondary school attendance, the burden of agricultural and domestic work and limited access to credit. Therefore, women often have more difficulty providing for their families than men.
The situation is not all negative, however, with several programs in place to help improve women's empowerment in Laos. The first of these is from Oxfam, supporting the Gender Development Association to involve women in income generation activities and the management of savings groups in one of Laos' poorest areas.
The Women's Empowerment Program in Laos has been in place for over two decades. Over the course of the program, The Asia Foundation has worked with local partners in Laos to ensure women's ability to access their legal rights, increase their presence in leadership roles and provide greater opportunities for future generations of women and girls.
Lastly, there is the Women's Empowerment Project in Laos, which is managed by GVI, one of the most prominent international volunteering organization in the world. The aim of the project is to contribute to sustainable, long-term women's empowerment initiatives in Laos, with volunteers contributing to GVI Laos' objectives such as promoting gender equality, improving equal access to education and empowering local women to achieve increased employment opportunities and self-determination. These steps will assist with women's empowerment in Laos, breaking the cycle of poverty and inequality.
– Drew Fox
Photo: Flickr
https://borgenproject.org/wp-content/uploads/The_Borgen_Project_Logo_small.jpg
0
0
Borgen Project
https://borgenproject.org/wp-content/uploads/The_Borgen_Project_Logo_small.jpg
Borgen Project
2017-12-07 07:30:51
2019-10-29 10:41:24
Women's Empowerment in Laos Needed for Fighting Poverty