The Secret to Combining Healthcare and Women's Empowerment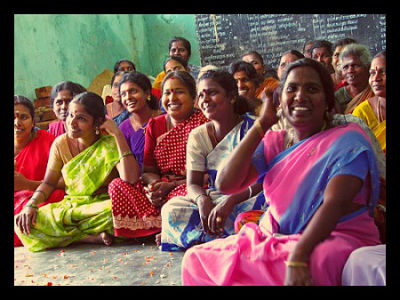 |
For decades now BRAC, a Bangladeshi anti-poverty organization formerly known as the Bangladesh Rural Advancement Committee, has been providing a different approach to healthcare services.  While most health care around the world is provided by doctors and nurses in a hospital setting, BRAC has been using a door-to-door method of healthcare.  BRAC hires women to deliver primary health care or locally by visiting people at their homes without a doctor or nurse.   Not only does this create healthier communities, but it also elevates these women to a higher status in society and broadens the perceptions of the role of women in these rural communities.
These women join BRAC as frontline community health promoters.  After they receive training from BRAC, they travel from house to house in order to promote many health practices that we hold as staples in the Western world.  Among these is the adoption of contraceptives, identifying pregnancy, proper health while with child, and education about children's health.  While there, the women also treat basic illnesses among family members.  Further training from BRAC allows these women to raise awareness about other diseases like hypertension and diabetes while giving them access to equipment such as blood pressure gauges and primary medicines.
This sort of medical service without a doctor or nurse is made possible by the fact that many diseases in poverty-stricken and developing areas is the result of simple ailments that do not need extensive medical training to diagnose and treat successfully.  One of the most significant examples of this is diarrhea.  According to the World Health Organization's website, "diarrheal disease is the second leading cause of death in children under five years old…Globally, there are nearly 1.7 billion cases of diarrheal disease every year." These women can help stave off the malnutrition which results from diarrhea with simple oral rehydration solutions.
BRAC has evolved from a small relief organization in 1972 into the largest development organization in the world by enacting these types of strategies that utilize poor communities' own human and material resources to create environments and situations that enable the poor to take control of their own development.  This community health program is a prime example of the best type of development strategy.  It does not consist merely of throwing resources at a community but empowers members of that community to take an active role in development.  This strategy holds even more impact because of its use of women as employees, as the empowerment of women is the key to overcoming global poverty, due to women's large investment in their own communities.
– Martin Drake
Source: Huffington Post, World Health Organization, Bangladesh Rural Advancement Committee
Photo: Global Voices
https://borgenproject.org/wp-content/uploads/logo.jpg
0
0
Borgen Project
https://borgenproject.org/wp-content/uploads/logo.jpg
Borgen Project
2013-06-28 04:00:48
2020-07-06 18:33:37
The Secret to Combining Healthcare and Women's Empowerment