7 Facts About Life Expectancy in Jordan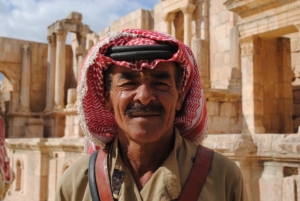 Jordan is an Arab country in West Asia with a population of more than 10 million people and a life expectancy of 74 years. Although some in Jordan face health and economic struggles, efforts are in place to raise the average life expectancy rate. Here are seven facts about life expectancy in Jordan.
7 Facts about Life Expectancy in Jordan
As of 2017, road injuries ranked number nine of 10 factors causing the most deaths in Jordan. In 2007, road injuries ranked much higher at sixth, as there were 110,630 road accidents and 992 fatalities. That statistic increased from 1987's 15,884 accidents. In response to these 2007 numbers, the Jordanian government applied new traffic laws in 2008 and increased police activity, which, ultimately, boosted life expectancy.

Air pollution is in the top 10 risk factors of death and disability combined in Jordan. In urban areas, 50-90 percent of Jordan's air pollution comes from road traffic, and based on a report in 2000, air pollution causes around 600 premature deaths each year. The main factor of poor air quality is lead-based gasoline used in cars, emitting lead pollution. In 2006, the government introduced two types of unleaded petrol for cars. However, air pollution was still a leading cause of death in 2017.
Noncommunicable diseases are on the rise in Jordan. Even though these diseases cannot be transmitted to others, they remain some of the most common causes of death. From 2007 to 2017, Ischemic heart disease continued to be the number one cause of death for Jordanians and diabetes moved up from fifth to fourth. As of 2017, strokes ranked second.
Chronic illnesses are some of the most common diseases in Jordan. Approximately one-third of Jordanians over 25 have a chronic illness or suffer from more than one. Reported chronic illnesses are largely caused by the practice of smoking tobacco. Out of the entire population, 38.2 percent use tobacco, including 65.5 percent of males over 15. If the amount of smokers does not decrease in the future, it will negatively impact the mortality rates and overall life expectancy in Jordan.
Jordanian's access to healthcare and insurance is increasing every year. From 2000 to 2016, on average, the percent of those insured increased by an average of 1.2 percent. Overall, 70 percent of Jordanians are insured. All children under six and citizens older than 60 are eligible for insurance with Jordan's public healthcare sector as well. Primary healthcare clinics are available in both urban and rural areas, and those with insurance receive free medication.
The Jordanian government developed a national electronic medical library (ELM). The ELM gives students and healthcare workers free access to medical resources to encourage and increase the number of people pursuing a career in medicine. The government hopes that the ELM will help increase the availability of healthcare and allow the medical industry in Jordan to flourish in the future.
Mercy Corps has been supporting Jordanians since 2003. The organization has 250 workers in the country. Mercy Corps not only provides basic needs but also long-term solutions, such as working to reduce tensions between leaders in communities. Mercy Corps has helped more than 3,000 vulnerable households with costs to meet urgent needs and in 2017 alone, more than one million Jordanians benefitted from their work.
Although certain health and economic issues are prominent, Jordan is making improvements to its quality of living. The government is taking the initiative to move the country forward, economically and medically, which can only mean an increase in life expectancy in Jordan in the future.
– Jordan Miller
Photo: Unsplash
https://borgenproject.org/wp-content/uploads/logo.jpg
0
0
Jennifer Philipp
https://borgenproject.org/wp-content/uploads/logo.jpg
Jennifer Philipp
2019-10-01 08:17:23
2019-12-17 15:07:59
7 Facts About Life Expectancy in Jordan