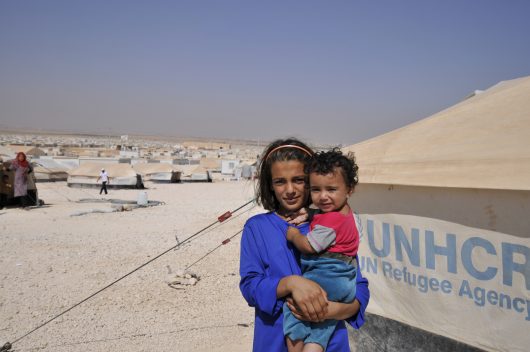 Jordan, home to Za'atari refugee camp, is facing a resource crisis. In an already resource-poor, food-deficient country, the influx of Syrian refugees, accounting for almost ten percent of Jordan's population has added great pressure to the economy. Consequently, one of the biggest problems facing Jordan today is finding a way to feed its swelling population.
With a hike of around 20 percent in food prices, 2016 has plunged many Jordanians into a state of food insecurity. The alarming unemployment rate of 13.6 percent amplifies the problem as fewer people are able to buy the increasingly expensive food. Fortunately, NGOs and international organizations have been markedly proactive in their efforts to assist the food insecure.
On the local level, perhaps the most significant strides towards alleviating hunger in Jordan have been made by the Jordanian Food Bank (JFB) established in 2010. The non-profit has launched multiple projects such as the "Awareness for Hotels and Restaurants" campaign which collects unused food from Jordanian hotels, events, restaurants and others and donates it to families in need. It has also signed an agreement with the Jordanian Austrian Company to combat hunger and assist underprivileged families in local communities. Under the agreement, the Jordanian Austrian Company will provide 25 underprivileged families with food packages every month and half a ton of rice in support of various JFB programs.
Another local organization, Family Kitchen, works on a similar model, collecting uneaten food from hotels and bakeries and distributing them among the food insecure in Amman. Even individuals and groups at the grassroots level are playing their part by introducing initiatives such as Kulluna Ahl, a food bank run by Amman's municipality and Izwati sandwich shop providing free sandwiches to the poor.
The drive of local organizations in helping the victims of food insecurity prosper is both admirable and necessary. However, factoring in the needs of Syrian refugees, local initiatives simply aren't enough to combat the entirety of hunger, thirst and deprivation in Jordan. As a result, international organizations have stepped in to fortify existing efforts.
The World Food Programme (WFP) is the biggest organization involved in alleviating hunger in Jordan. WFP launched an 18-month assistance program in 2013 to assist 160,000 vulnerable Jordanians affected by the extended economic crisis through cash and food transfers. It is also helping the Jordanian government with implementing a national school meals program to reach up to 320,000 school children in the most vulnerable and food insecure areas. In addition, it is providing food assistance to over 560,000 Syrian refugees in Jordan through electronic and paper vouchers.
International NGOs like Action Against Hunger are also having a huge impact on combatting hunger in Jordan. In 2015 alone, the organization helped 43,906 people in Jordan by providing them with nutritional support, safe water, sanitation and in some cases, enabling them to achieve economic self-sufficiency. The efforts of global organizations like this are vital to the protection of people in vulnerable situations. You can help facilitate their work by donating to Action Against Hunger here.
– Mallika Khanna
Photo: Flickr
https://borgenproject.org/wp-content/uploads/logo.jpg
0
0
Borgen Project
https://borgenproject.org/wp-content/uploads/logo.jpg
Borgen Project
2016-12-20 01:30:43
2020-05-21 10:51:31
Hunger in Jordan