Addressing Homelessness in Argentina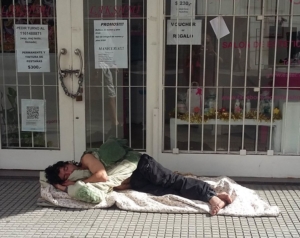 With political uncertainty and inflation rising, homelessness in Argentina is growing. In Buenos Aires alone, 6.5 percent of the population is homeless. This translates to approximately 198,000 people. This problem is not specific to the nation's capital either. In fact, a report from the National Statistics and Census of the Republic of Argentina estimates that up to 5 million people are homeless (approximately 10 percent of the overall population).
According to the Social Debt Observatory of Pontificia Universidad Católica, while the national poverty rate was 29 percent in 2015, the current poverty rate is 35 percent. Rising homelessness is only the most visible manifestation of Argentina's current economic crisis.
Economic Downturn
Recently, inflation reached 54 percent, while the peso fell by 30 percent. This depreciation follows Argentina's recent primary election, which showed support for opposition to the current president, Mauricio Macri. Fearing these results indicate future political upheaval, international investors retreated from the market and caused the peso's sudden drop in value.
On top of the decreased spending power of Argentines, the government recently discontinued subsidies for utilities and public transportation. Rising prices hurt average Argentine households.
Within the past year, the price of natural gas rose by 77.6 percent. Electricity and water suffered similar price jumps, rising by 46 percent and 26 percent respectively.
As Matias Barroetaveña, the director of the Center of Metropolitan Studies reports, seven out of 10 families consider basic utilities to be a strain on their finances. With the cost of living inflating, it is not surprising that homelessness in Argentina continues to rise as well.
The Reality
Homeless families and individuals end up living primarily in makeshift shelters around urban areas: in plazas and parks, as well as outside shopping malls and bus stations. There aren't enough shelters around Buenos Aires to handle the homeless population; all of the current shelters are at capacity. Additionally, shelters divide everyone by gender, so families often forego them in favor of staying together.
Free meals from soup kitchens and similar organizations are staples for many as well. The National Institute of Statistics and Census (INDEC) projects that food prices will increase by 80 percent by December. INDEC also expects the situation will worsen, so that one out of every 10 Argentines will experience extreme poverty or homelessness by the end of the year.
Helping the Homeless
Project 7 (Proyecto 7 in Spanish) helps homeless individuals in Buenos Aires and works to raise awareness about homelessness. In addition to distributing donated clothing and supplies, Project 7 works on various initiatives to give voice to homeless people. Through initiatives, such as "La Voz de la Calle" (The Voice of the Street), Project 7 offers alternate ways to think about and discuss homelessness in Argentina.
According to Horacio Ávila, co-founder of Project 7, one of the most difficult aspects of homelessness is the psychological toll. As he puts it, "when people live on the streets, they feel like they're a waste of space like they deserve to be there. Your opinion of yourself is so low." Project 7 not only improves the living conditions of the homeless but also supports legislation addressing the homelessness problem on a national level.
– Morgan Harden
Photo: Wikimedia
https://borgenproject.org/wp-content/uploads/logo.jpg
0
0
Jennifer Philipp
https://borgenproject.org/wp-content/uploads/logo.jpg
Jennifer Philipp
2019-10-12 07:36:11
2019-12-17 12:01:06
Addressing Homelessness in Argentina