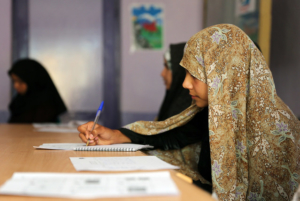 In mid-June, the Senate Foreign Relations Committee held a hearing to discuss the importance of women in peace and security, a follow-up to the Women, Peace, and Security Act (WPS) passed in 2017. This particular hearing responds to the recently published White House Strategy that sets various objectives and goals to diversify the roles women play in the peace process and increase women's leadership by providing them with the resources, skills, and support needed to secure successful peace agreements.
The members of the committee, as well as the testimonies, emphasized the opportunity to put these plans into immediate action in Afghanistan. The U.S. has committed to peace negotiations with the Taliban but each agreement has failed due to miscommunication, stalemates, or other political reasons. Palwasha Kakar, Senior Program Officer for the U.S. Institute of Peace, stated that including Afghan women in peace and security negotiations is essential to the success and sustainability of peace and recovery in Afghanistan.
Women in Afghanistan
The Taliban government of Afghanistan held power from 1996 to 2001, during which Afghan women were stripped of natural rights–they were prevented from obtaining an education and job, showing skin in public and leaving the house without a male chaperone. Rape and violence against women were widespread until U.S. military action overthrew the regime. A driving factor of U.S. intervention 18 years ago was to protect Afghan women from threats and actions against their human rights. Despite the tremendous gains women have achieved in political, economic and social life since 2001, women still struggle to have a seat at the peace talk table.
However, Afghan women have found ways to participate at a local level. Women have brokered local deals by negotiating directly with Taliban leaders; for example, Afghan women's communication with the wives of the Taliban helped facilitate the release of hostages several times. Second, Afghan women use their access to information to act as informants for the U.S. and its partners. Third, Afghan women mobilize the public by increasing public awareness and support for the peace process. Fourth, Afghan women have mobilized support across various ethnic lines to push for a unified commitment to equal rights for all Afghan citizens.
Impact of Women on the Peace Process
On a local level, Afghan women in peace and security positions have made significant achievements for Afghanistan and its cities. However, on a global level, women were only included in two out of 23 rounds of negotiations with the Taliban between 2005 and 2014. Yet research shows that women are a necessary asset at the negotiation table. When women are involved in peace agreements, they are 64 percent less likely to fail and 35 percent more likely to last more than 15 years. In her testimonial, Jamille Bigio argues that women in peace and security negotiations are more likely to deescalate tensions and stabilize their communities. Therefore, closing the gender gap will improve a country's conditions.
Four Focus Areas Outlined in the WPS Strategy
The outcome of this hearing suggests that women's participation in Afghanistan is essential to create a stable and sustainable agreement. The Senate Foreign Relations Committee plans to simultaneously use and revise the following four goals from the WPS Strategy to encourage multi-agency resources and support for women's participation in Afghanistan peace talks.
 "Seek and support the preparation and meaningful participation of women around the world in decision-making processes related to conflict and crises."
Three activities to support this goal includes: Incentivizing women to participate in security-sector programs that train foreign nationals in male-dominated courses, integrating local women's interests into conflict prevention and resolution, and leading by example by increasing American women participation and making local women partners.
"Promote the protection of women and girls' human rights; access to humanitarian assistance; and safety from violence, abuse, and exploitation around the world."
Women are often the targets of violence, and therefore experience unique consequences of conflict. To increase the role of women in peace and security, the U.S. must identify and eliminate obstacles that generate sex-based discrimination and gender-based violence and include medical care and psycho-social support for women as part of humanitarian aid.
"Adjust U.S. international programs to improve outcomes in equality for, and the empowerment of, women."
Train U.S. diplomats, military and development personnel on the needs and perspectives of women to increase their ability to prevent and mediate violence and support the involvement of women in peace and security negotiations.
"Encourage partner governments to adopt policies, plans, and capacity to improve the meaningful participation of women in processes connected to peace and security and decision-making institutions."
Women peacekeepers receive more trust from their communities and therefore have more power to increase participation among other women. Further, research shows that women are more likely to address social issues during negotiations, which helps communities recover. Women's participation increases the likelihood of reaching a sustainable agreement.
Women are essential for achieving peace and security in Afghanistan, and vice versa. The U.S. is more likely to bring peace to a hostile environment with women's participation. As Sen. Tim Kaine said at the hearing, "We [U.S] have incredible power to give people hope and inspiration, and I hope we will continue to do it. And I think there's a lot of women in the world who really have grown to count on us during the years, and I hope we don't let them down."
– Haley Myers
Photo: Flickr
https://borgenproject.org/wp-content/uploads/The_Borgen_Project_Logo_small.jpg
0
0
Kim Thelwell
https://borgenproject.org/wp-content/uploads/The_Borgen_Project_Logo_small.jpg
Kim Thelwell
2019-09-02 18:04:10
2019-12-17 11:26:04
The Role of Women in Peace and Security in Afghanistan