Female Entrepreneurship in Mexico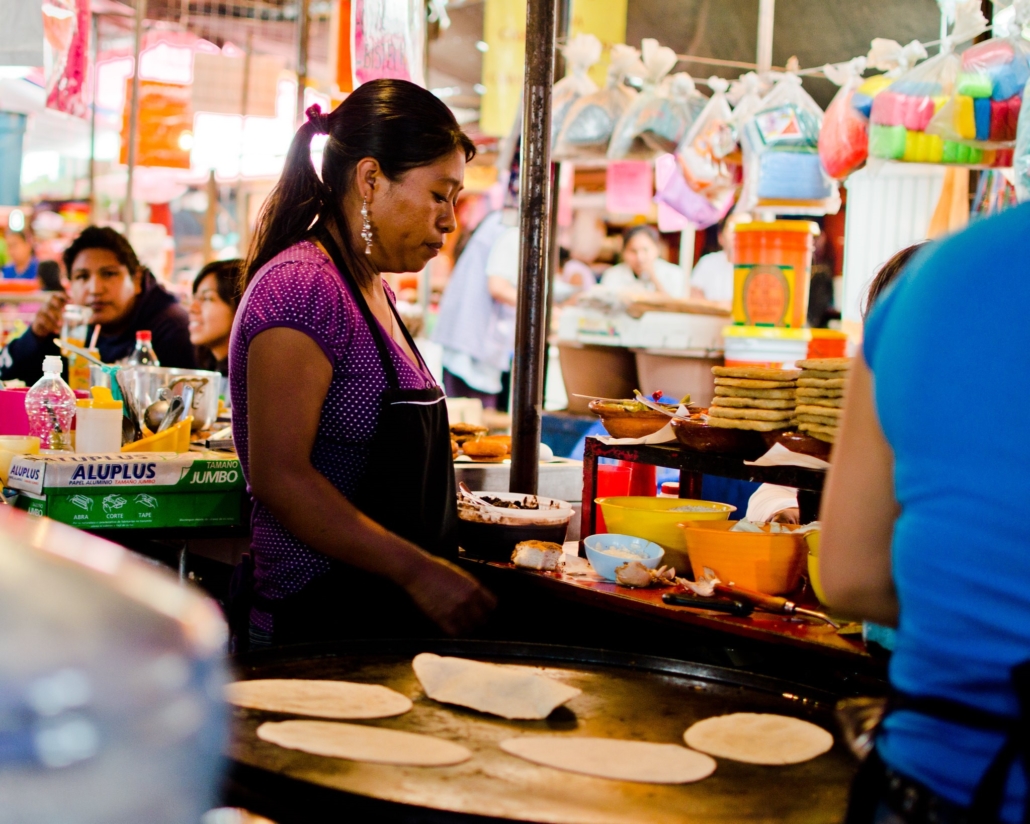 According to a 2016/2017 study by the Global Entrepreneurship Monitor, Mexico is one of the five countries in the world where the number of women starting their own businesses is equal to or greater than men. This is fantastic news because if men and women participate equally in the economy, Mexico's GDP could increase by 43 percent or $810 billion. From 2000 to 2010 alone, women's participation in the workforce decreased extreme poverty by 30 percent in Latin America and the Caribbean. With that increase in female entrepreneurship in Mexico, women are able to become more independent, but many women still face powerful barriers in starting their own business.
Many women, especially in subsistence settings, lack access to training, financing and markets, and face physical, sexual and economic violence. The average female-headed household earns $507 a month in urban areas and $273 a month in rural areas while male-led households earn $780 a month in urban areas and $351 a month in rural areas. The burden of domestic tasks also falls mostly on women. A 2009 survey found that men spend an average of 53 hours a week on economic activities and 12 hours on domestic tasks while women spend an average of 40 to 45 hours a week earning money and 20 hours maintaining the family and household.
The Marketplace Literacy Project
Elena Olascoaga, a gender and development consultant and former project manager for the Marketplace Literacy Project in Mexico, is very familiar with the challenge successful female entrepreneurship in Mexico faces. Olascoaga describes the Marketplace Literacy Project as an initiative to help people in subsistence settings become entrepreneurs by acknowledging the skills they already have in the marketplace and giving them the tools to build on and market pre-existing skills.
According to Olascoaga, the founder of this methodology and workshop program, Professor Madhu Viswanathan, tried to bring this program to Mexico for a long time before finding a U.S. State Department grant intended for breaking cycles of violence against women due to economic dependency. He initially designed the program to be gender-neutral so Olascoaga came in because her background in gender consultancy allowed her to effectively factor the unique challenges female entrepreneurship in Mexico faces to the workshops. She added a new program to the methodology that she called autonomy literacy, because, although the program teaches participants to create their own income, it is often difficult for people in abusive situations to start a business, even if they have the know-how.
The Need for Female Entrepreneurship in Mexico
While Mexico has made great strides to improve gender equality, there is often still a cultural emphasis for women to become mothers and housewives, to a point where Olascoaga describes economic dependence as romanticized. Many consider women lucky if they do not have to work because their husband provides food and shelter. However, this kind of love can be a trap. If the husband is the only provider, then the wife is not building her own savings or gaining experience in the workforce. "If something goes wrong in the relationship, then they have nowhere else to go," she said.
In an interview by Forbes Magazine, hotel owner Gina Lozada said that "…Most parents don't educate their girls to succeed in business. On the contrary, it is normal that women are raised to believe that their goal should be to marry and take care of the family." Often, because female entrepreneurship in Mexico does not receive emphasis, women feel that they do not have many options and lack the confidence to start their own company.
Olascoaga observes that, because women in subsistence settings feel that they cannot strike out of their own, they often stay with their abuser. "A common phrase is no se hacer nada which is I don't know how to do anything," she says. Autonomy training, when combined with marketplace literacy training, teaches women that they do know how to do something. For example, they might be good cooks or skilled embroiderers. The methodology of the Marketplace Literacy Project is to build on preexisting knowledge and teach women to recognize their skills and to think strategically about their resources.
Autonomy Literacy
"We want women to be aware that they can create their income," said Olascoaga. In the workshops, the Marketplace Literacy Project works with women in two age groups, women older than 18 and girls 14 to 18 years old. In her experience, almost all the women older than 18 had been in violent relationships where they stayed with their aggressors because they did not have economic independence. Some among the younger group were already mothers and in violent relationships where they had the potential to work and build skills, but their partners would not let them.
As the younger group went through the program, though, many of them began to realize that their mothers, aunts and other relatives were living in similar situations. One struggle that she noted when working with women is that they will not recognize that they are living in an abusive situation, especially to a group of strangers, so they instead speak in hypotheticals. The participants may know someone in this situation, and if they did, they would express how they could help.
The Marketplace Literacy Project, though, has helped give more than 4,500 women tools for economic independence since its start in 2016. Olascoaga said that those who participate have two major takeaways. The first is that autonomy becomes a very important concept and the second is that they do not need money to start a business. Olascoaga was happy to report that women will often come up to her and say that, after the workshop, they started businesses by selling cookies or embroidering. "It might seem small to us," Olascoaga said, "but for them, it's a really big deal."
With female entrepreneurship in Mexico on the rise, more and more women are not only finding empowerment in their lives but changing the world around them by challenging a culture that often devalues their work.
– Katharine Hanifen
Photo: Flickr
https://borgenproject.org/wp-content/uploads/logo.jpg
0
0
Kim Thelwell
https://borgenproject.org/wp-content/uploads/logo.jpg
Kim Thelwell
2019-09-02 18:35:09
2019-12-16 12:00:18
Female Entrepreneurship in Mexico