IMANA's SaveSmile Initiative in Sudan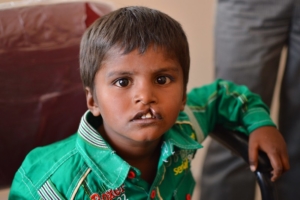 Every three minutes, a child is born with a birth defect called a cleft lip and/or palate. These cleft defects "occur when a baby's lip or mouth do not form properly during pregnancy." The impacts of clefts go deeper than just physical appearance as clefts can also have major effects on eating, "speech, hearing, dental development, facial growth" and psychological well-being. Surgery can repair a cleft lip or palate. Medical teams often perform these within the initial two years of a child's life, however, some adults seek these surgeries as well. Despite the far-reaching impacts of clefts, many parents cannot afford the costs of the surgery their child desperately needs to lead a normal life. In Sudan and many other developing countries, a cleft lip can be the sole cause of extreme shame and ridicule. Those with facial deformities are subject to mockery, ostracism and isolation. Due to severe social stigma, many are unable to leave their homes, gain an education or marry. The Islamic Medical Association of North America (IMANA) spearheaded the SaveSmile initiative to help people with cleft defects in Sudan. Through surgical mission trips and free, high-quality care, IMANA is changing the lives of those afflicted with clefts, one surgery at a time.
IMANA and SaveSmile
Over the span of 156 medical missions, IMANA has helped more than 2.6 million patients in impoverished countries. Not only does IMANA do medical relief work but it also aids many health professionals in gaining an education and volunteering their talents to those in need.
In an interview with The Borgen Project, former president of IMANA and current chair of the IMANA Medical Relief program (IMR), Dr. Ismail Mehr, said that IMANA is blessed to have gained recognition for its medical humanitarian work from USAID, the U.S. State Department, the United Nations, the World Health Organization (WHO) and President Obama. "SaveSmile is just one little part of our work. We're present in [more than] 36 countries around the world where we carry out medical-surgical missions," said Mehr. While SaveSmile is only a small part of IMANA's impact, the initiative has completely transformed the lives of more than 1,500 patients suffering from cleft lips and palates.
Dr. Mehr and his team have carried out 11 annual missions to Sudan to provide free surgical correction to patients who otherwise would not receive the care that they need. Although these surgeries usually cost around $200 and each mission costs about $35,000 in total, IMANA strongly believes that financial status should not decide who can or cannot receive surgery. IMANA has made these surgeries accessible to Sudan, a country with no other medical relief teams working there due to Sudan's placement on several sanctions and embargo lists. All donations fund surgical care and materials; the volunteers even pay for their own travel expenses to ensure that all donations go directly toward helping patients.
The Importance of Cleft Surgeries
Those with cleft defects often face extreme social ostracism from their communities. In Sudan, there are many stories of children whose families do not allow them to go to school or leave the house because families fear embarrassment. This ostracism has social and psychological impacts. Cleft lips can also be detrimental to the patient's health. Firstly, a newborn infant with a cleft lip is usually unable to properly suckle, leading to extreme malnutrition. As they age, they still have trouble eating as it is difficult to chew with this disformity. Cleft lips also often create a speech impediment, subjecting the individual to even more ridicule and difficulty expressing themselves. Lastly, those with cleft lips are more prone to ear infections and other respiratory tract infections, which are especially difficult to treat when the patient does not have access to proper healthcare.
The Origin of Project SaveSmile
Noting the poverty and lack of proper healthcare in Sudan, IMANA took action, setting its sights on repairing cleft lips, mainly among children. The first team flew to Sudan in 2009, and since then, a team has traveled to perform surgeries in Sudan every year other than 2021 due to COVID-19 concerns and restrictions.
In the United States, stores, schools and businesses shut down in March 2020. Fortunately, the SaveSmile team operated in Sudan just a week before international travel came to a halt, giving the team the ability to complete a mission trip in 2020. However, due to a lack of vaccinations in Sudan and the Delta variant, the team had to cancel its March 2021 trip. The team has yet to decide whether it is safe to visit Sudan in 2022 as their number one priority is keeping both patients and volunteers healthy.
Dr. Mehr's Message
Dr. Mehr emphasizes the importance of medical relief work. He notes that medical relief work is not the most significant focus of humanitarian efforts. There are many organizations focusing on important aspects such as shelter, food and education, but few that work in the realm of medical relief. "People need access to healthcare and that is why we feel so strongly here at IMANA about the work that we do," said Mehr. Often, medical relief organizations such as IMANA do not receive enough funding, which creates barriers in procuring surgical supplies and travel funds to carry out medical missions.
By supporting organizations like IMANA, an ordinary individual can play a role in transforming the lives of thousands of people who would otherwise end up in the outskirts of society simply because of a repairable birth defect. Supporting the SaveSmile initiative allows IMANA "to fly those miles and heal smiles."
– Mariam Abaza
Photo: Flickr
https://borgenproject.org/wp-content/uploads/logo.jpg
0
0
Jennifer Philipp
https://borgenproject.org/wp-content/uploads/logo.jpg
Jennifer Philipp
2021-11-13 07:30:38
2021-11-09 14:26:24
IMANA's SaveSmile Initiative in Sudan