Poverty in Angola: Causes, Updates and Statistics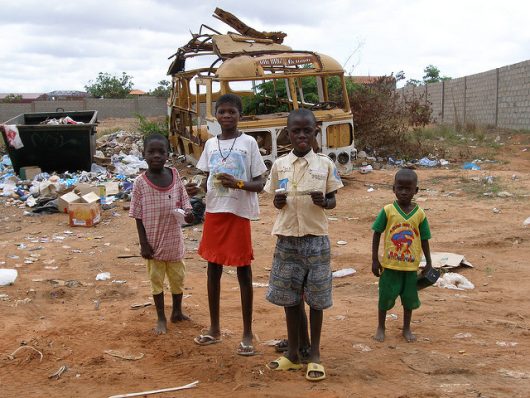 Despite its economic success in the booming oil industry, poverty in Angola is a serious concern. The fact that a majority of Angolans live in extreme poverty contrasts greatly with the country's booming economy. Angola is one of Africa's most resource-rich countries. It is the second-largest oil producer in Africa and the fourth-largest producer of diamonds. In addition, the country is rich in such resources as minerals, lumber and fish. Although the oil industry in Angola brings in a majority of the state's revenue, two-thirds of the population live on less than $2 a day and do not see the benefits of the industry.
The government claims that poverty rates have dropped in recent years, yet corruption is still a major factor. The question remains: "Where is this money?" Government elites and employees reap the benefits of the oil industry, while many Angolans live in arduous conditions. Additionally, the country possesses high infant mortality rates, poor access to clean water and sanitation and high illiteracy rates.
The civil war from 1975 to 2002 left Angola devastated, with countless deaths and millions of internally displaced persons. Angola can now boast a revived economic situation and an up-and-coming international profile. However, the country still has a great deal of work to do in its commitment to alleviate poverty in Angola.
The 2016 Human Development Index ranks Angola 149 out of 186 on the poverty scale, as poverty permeates the entire nation. Poverty in Angola is greater in rural areas, which contains 38.5 percent of the population. In fact, 94 percent of rural households are categorized as poor.
There is a very low electrification rate in rural areas of Angola, with only 6% of rural households having access to electricity. A considerable amount of the population (38 percent) does not have access to safe water sources. Consequently, the mortality rate for children under five is around 17 percent. In addition, many children do not have access to education, making future employment difficult. In fact, 34.6 percent of people have unequal access to education. As a result, 28.9 percent of the population have an unequal income.
The capital city of Luanda, one of the largest cities in Angola, drastically contrasts its outskirts. Just outside the city limits, hundreds of thousands of people live in extreme poverty.With no running water or proper infrastructure for sanitation, disease runs rampant. Diarrheal diseases, cholera, measles and diphtheria are just a few such illnesses.
According to the World Health Organization, there were over 2,000 cholera outbreaks in 2009. Yet, there was only 1 doctor available for every 10,000 people. As a result, countless families lack access to vaccines or clinics to treat these diseases.
In recent years, there have been successful reconstruction programs, including roads, airports, bridges, hospitals and schools. Although the Angolan government is beginning to make progress towards rebuilding, the answer for widespread poverty alleviation lies within the ruling party and channeling the revenue from the oil industry into the hands of Angolan's themselves.
– Kimber Kraus
Photo: Flickr
https://borgenproject.org/wp-content/uploads/logo.jpg
0
0
Borgen Project
https://borgenproject.org/wp-content/uploads/logo.jpg
Borgen Project
2016-02-19 01:30:40
2020-06-23 08:42:33
Poverty in Angola: Causes, Updates and Statistics