Maternal and Child Mortality in Cameroon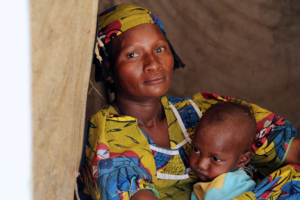 Cameroon borders the coast of the Gulf of Guinea in Central Africa. The country is home to around 25.3 million people, comprising around 0.3 percent of the world's population. Its population has increased significantly from 17 million in 2002. The nation has faced a number of health challenges, such as HIV/AIDS and tuberculosis, but is primarily plagued by extremely high maternal and child mortality rates. In 1998, there were 4.3 reported deaths per 1,000 live births. This rate has steadily increased in recent years. The 2018 UNICEF data report states that the national neonatal mortality rate is 24 deaths per 1,000 live births, and is as high as 36 deaths in rural areas.
Combating High Mortality Rates
In 2016, the World Health Organization (WHO) performed a study designed to identify the number of infant and mother deaths that occurred during childbirth in 2015 and 2016. The study included four health districts in Cameroon, Specific interventions focused on financing, strengthening necessary human resources, service provision, partnership and advocacy. WHO worked with a Cameroonian reproductive health organization, RMNAH, to train 87 healthcare providers in the operation and organization of regional blood transfusion around the four sectors. The organization also implemented 10 health facilities in central and east regions of Cameroon.
Despite the contributions of WHO and RMNAH, data showed that maternal and child mortality was the same in October 2015 and 2016. In May 2016, researchers traveling to Cameroon with the Center for International Forestry Research (CIFOR) discovered a superfood plant that may spark change in mortality rates.
The Superfood
A group of researchers first discovered the potentially transformative plant in the Takamanda rainforest region, located in southwest Cameroon. The group working with CIFOR was traveling to local communities, observing rates of malnutrition and maternal and child mortality and recording variation by village. One researcher, Caleb Yengo Tata, recalled that some communities witnessed infant death every day. The root of recurring health problems was anemia due to iron-deficiency in women who had reached reproductive age. In some regions of Cameroon, 50 percent of women and 65 percent of children face anemia-related health issues. These can include cognitive difficulties, low birth weight and generally increased maternal mortality. Tata and other CIFOR researchers found that women living in grassland communities were more prone to severe anemia than those living in forest areas. Around 75 percent of women inhabiting either terrain experienced a level of anemia.
Researchers found that the difference could be attributed to a dark leafy green plant called "eru," which grows bountifully throughout rainforests in Cameroon and central Africa. The plant is predicted to have 85 percent more vital nutrients than fresh spinach, and has virtually no anti-nutrients, making it what Westerners would peg a "superfood." Traditionally, eru is cooked in palm oil and served with crayfish and hot chili. Women in the forest regions of Cameroon have been harvesting the plant for years, but were unaware of its potential health benefits until recently.
The Eru Plant's Impact
Science has not yet confirmed whether the eru leaf will adequately address the crisis of child and maternal mortality in Cameroon. Researchers found a statistically significant link between eru consumption and lower anemia rates, correlated to lower child and maternal mortality rates. Through research, scientists ruled out other environmental factors that may influence the prevalence of anemia, such as malaria and parasites. However, they were unable to collect information from a large sample. While the data itself is limited, the discovery is a step forward, representing a possibility of change and the beginning of a healthcare breakthrough.
Although significant changes have been made, maternal and child mortality in Cameroon is still high. For those living in the poorest areas of the country, there are 39 deaths per 1,000 live births. Even in areas considered the "richest sectors" report 29 deaths per 1,000 live births. Researchers, nutritional and medical experts and Cameroonians remain hopeful that the newly discovered eru could function as a breakthrough for child and maternal health. If successful, the superfood plant needs to be preserved, along with other micronutrient-dense foods likely hiding among grasslands and forests in rural sectors of the country.
– Anna Lagattuta
Photo: Flickr
https://borgenproject.org/wp-content/uploads/logo.jpg
0
0
Kim Thelwell
https://borgenproject.org/wp-content/uploads/logo.jpg
Kim Thelwell
2019-07-15 01:30:16
2019-12-17 12:56:45
Maternal and Child Mortality in Cameroon