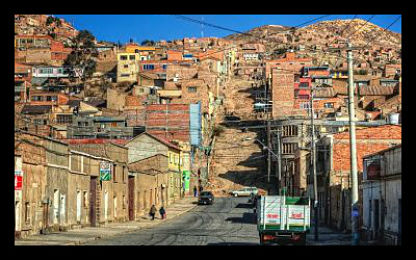 Bolivia is the poorest country in South America. It possesses the largest ratio of indigenous people, who make up 62 percent of the population. Most of these indigenous groups suffer from poverty—over 74 percent are poor. The indigenous groups also make up most of the rural areas, where the greatest amount of poverty in the region is found. The unemployment rate remains high, with 8 percent of the population without jobs, increasing poverty in rural areas.
Bolivia's income distribution is one of the most uneven in the world, ranking second in unequal income distribution. The land is rich in minerals and resources, but the elite Spanish ancestry dominates the economic system. Most Bolivians are low income farmers and traders. There has been long running tension over the rich natural gas resources by exploitation and export, which continues to strengthen the Bolivian income gap.
Social unrest in Bolivia is growing with the tax reform. The inflation rate is controlled by the tax reform and causes more tension within Bolivia's economy. These issues in the economic system are creating poverty that affects groups like the indigenous people. Poverty can lead to inequality, which limits human rights and mobility through different strata of class, causing a separation of income.
Throughout history, indigenous people have been the poorest and most excluded from social economic growth. Access to basic health care and necessities is limited due to isolation. The high fertility rate among the indigenous people of Bolivia has increased their population to over 5 million people. The increase is so drastic because of the lack of access to education and health care needs.
Bolivia sees the highest rate of child malnutrition, particularly among indigenous cultures. World Vision estimates that over a quarter of the children under the age of five are malnourished and do not have access to proper health care.
Recent organizations, like World Vision, have formed local centers in Bolivia to help monitor the well-being of these children. This includes the implementation of training for local health care workers to bring awareness to kids to stay safe from different forms of child maltreatment.
Most of the women living in rural areas have limited education or training for employment. There is also a lack of health services and education in the health sector for women. This restricts the growth of the economy by preventing these women from bettering their futures and the economy.
The rural areas continue to suffer from poverty. With the deficiency of natural resource management and limited approach to technology in rural areas, infrastructures such as roads will be neglected. Without the proper road system, isolation of indigenous groups will increase, causing lack of job opportunities and access to education.
These regions of Bolivia are facing obstacles in the economic development in many of the indigenous groups. The advancement of these obstacles relies on policies to protect the economic growth in the rural regions, where indigenous groups reside, and to help increase labor productivity.
— Rachel Cannon
Sources: BBC, UNICEF, Georgetown University, World Vision
Photo: Next Starfish
https://borgenproject.org/wp-content/uploads/The_Borgen_Project_Logo_small.jpg
0
0
Borgen Project
https://borgenproject.org/wp-content/uploads/The_Borgen_Project_Logo_small.jpg
Borgen Project
2014-05-24 04:00:50
2019-08-08 12:46:54
Bolivian Income Gap Causes Extreme Poverty