Aid for Children Working in Bolivia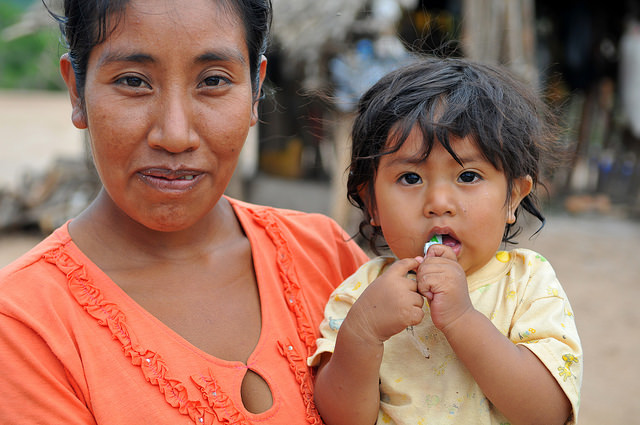 Bolivia's working age is the lowest in the world. At 10 years old, children can legally work for themselves, their families and for others. Better education and a change in cultural attitude is the only way to provide aid for children working in Bolivia.
Bolivia's Child and Adolescent Code was passed in 2014. It lowered the legal working age to 10 in an effort to prevent the exploitation of many children already working in Bolivia. But with 850,000 child laborers in Bolivia and only 78 inspectors, it is difficult to enforce regulations. Many children work illegally starting at the age of five.
Bolivian lawmakers wanted to set the minimum working age at 14, which led to riots as shoe shiners, bricklayers, street vendors and other child workers clashed with police in 2013.
The law passed with support from Bolivian President Evo Morales, who said that working children develop "social awareness." President Morales worked with his father at age six, herding llamas.
Aid for children working in Bolivia cannot come from regulations alone, as they are too lax and purport a vicious cycle of poverty. Working from a young age threatens their health, exposes them to violence and reinforces integral cycles of poverty. As it stands, 60 percent of children working in Bolivia drop out of school in order to continue working.
Four years after the law passed, many fear that the law is failing to protect Bolivia's working children. Children and their families must get approval from the government to work; however, only about 30 percent of applications are dealt with. Many ignore the law and put children to work unsupervised.
Bolivia has 8.3 million citizens and 59 percent of the population lives in poverty. Culture and need both contribute to child labor. It is seen as normal in Andean culture for children to help support the family. Therefore, aid for children working in Bolivia must extend from a change in social values and political priorities.
Child labor deprives children of their right to go to school, but Bolivian children need money to buy books. They also need to feed their younger siblings and help their family pay the bills. Poverty levels have decreased in Bolivia over the last few years, but children still play a key role in keeping many families afloat.
Aid for children working in Bolivia comes only in the form of regulations and unions that aim to prevent the exploitation of workers. The Union of Child and Adolescent Workers of Bolivia is an organization of young workers that have united to defend themselves from exploitation. They supported Bolivia's Child and Adolescent Code and do not want the cessation of child labor in Bolivia, but the improvement of its regulation. By fighting for better protection for child workers, groups like this can ensure fair treatment of children in the short term while working to change the cultural norms in the long term.
– Sam Bramlett
Photo: Flickr
https://borgenproject.org/wp-content/uploads/logo.jpg
0
0
Borgen Project
https://borgenproject.org/wp-content/uploads/logo.jpg
Borgen Project
2018-01-31 01:30:48
2019-12-18 05:52:51
Aid for Children Working in Bolivia