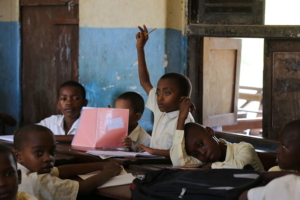 Comprised of what once were two separate states, Zanzibar and Tanganyika, Tanzania now sits in East Africa between Kenya and Mozambique after gaining independence from Britain in 1964. With a population of over 55 million people, Tanzania is the biggest and most populous East African nation. The following 8 facts about education in the United Republic of Tanzania will highlight problems students face in the pursuit of education. They will also map out efforts being made to ensure that students are able to access education.
8 Facts about Education in the United Republic of Tanzania
Throughout the 1970s, a focus was placed on education. Universal primary schooling consisting of seven years was instated. Unfortunately, the demand for secondary school outweighs the budget allotment, and as a result, many parents have been forced to help sponsor said education.
While there is little to no disparity between boys and girls enrolling in the mandatory primary schooling, just one-third of girls who enroll in secondary education will complete it. This may be a contribution to why 83.2 percent of males age 15 and over being able to read and write as opposed to the 73.1 percent of females at the same age level. Contributing factors to girls' having restrictions on their educations include premature marriages, gender-based violence and financial hardships.
Due to low literacy rates, the Tanzanian government has put a focus on adult education in addition to childhood education. Because of the success of these programs, adult literacy rates have improved drastically. While Tanzania's literacy rates are still below the world average, in terms of African nations, it ranks above average.
Another hindrance to children's education in Tanzania is the lack of qualified teachers available to teach. UNICEF reports that for every 131 students, there is one qualified teacher. This leaves many students without access to the education they deserve.
In addition to not having a sufficient number of teachers staffed in schools, many teachers are left without proper tools to teach adequately. Sixty-six percent of teachers say that they are not equipped with proper teaching supplies. Not providing teachers with the necessary tools to teach is a massive contributor to lower literacy rates.
USAID is working to provide various services designed to increase student retention rates. The organization is working closely to address the restrictions that young girls face in order to let them continue their education. USAID is working in partnerships with the National Plan of Action to End Violence against Women and Children.
With USAID's involvement, an estimated 19,000 young girls will benefit and have increased support for their continued education. It is predicted that nearly 1.5 million students as a whole will see improvements in their reading, writing and math schooling by 2021. Increasing the quality of school materials will lead to massive change throughout the country.
Another organization passionate about affording education to those in need in Tanzania is UNICEF. By 2021, UNICEF, along with the President's Office Regional Administration and Local Government (PORALG), hopes to increase the availability of safe and inclusive access to basic education. With this plan, the hope is to provide even the most vulnerable young people in Tanzania with proper primary education.
While Tanzania, like many other countries, has room for improvement, these 8 facts about education in the United Republic of Tanzania show that there are strong efforts being made. With effective plans of action in place for the next few years, the future of education in Tanzania looks brighter.
– Emi Cormier
Photo: Flickr
https://borgenproject.org/wp-content/uploads/The_Borgen_Project_Logo_small.jpg
0
0
Kim Thelwell
https://borgenproject.org/wp-content/uploads/The_Borgen_Project_Logo_small.jpg
Kim Thelwell
2019-08-06 01:30:31
2019-12-16 14:21:54
8 Facts About Education in the United Republic of Tanzania