8 Facts about Education in Sri Lanka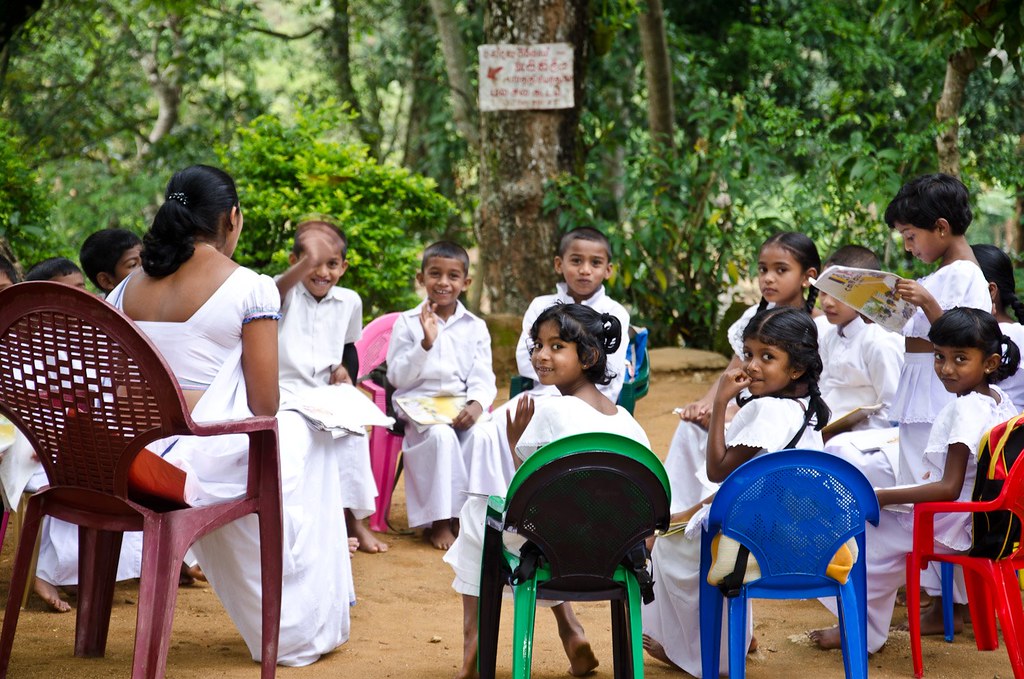 Sri Lanka has shocked the world with its success in its system of education. Within less than forty years of independence, the number of schools has increased by 50 percent. In fact, the number of students has increased by 300 percent. Such substantial growth is exemplified in the following eight facts about education in Sri Lanka.
Education is a government priority – The government has invested 14.5 percent of all expenditures in education. Provincial councils oversee provincial schools throughout Sri Lanka. Each has their own Ministry of Education and a Minister to who regulates education policies in the province. For example, Minister Akila Viraj Kariyawasam recently released a statement about the standard of primary and secondary school education. He stated that it must be monitored by a committee to ensure the standards of education are being maintained. Additionally, he stressed monitoring the higher-level teaching of future teachers to ensure their caliber is of a high enough quality.
It has a free education policy – This policy was ratified October 1, 1945, in Sri Lanka's constitution. The policy states that every child from the age of five to sixteen has the right to free education. This has allowed Sri Lanka's literacy rate has reached 92 percent. This policy's success is further demonstrated in the enrollment rates for boys and girls, with 96 percent of girls and 97 percent of boys enrolled in primary school, 95 percent for both genders in secondary school.
Child mortality is reduced – Education prioritization has resulted in the reduction of Sri Lanka's child mortality rate. For instance, the country went from 74.3 deaths per 1000 live births in 1968 to 8.8 deaths per 1000 live births in 2017. This is the result of an increase in health interventions. Additionally, the prioritization of education has helped more students learn about health risks and the prevention of harmful diseases than before.
Bilingual teaching – Another piece in the list of facts about education in Sri Lanka pertains to teaching. Many schools are introducing bilingual teaching strategies. These strategies have resulted in stronger educational performances. The official languages in Sri Lanka are Sinhala and Tamil. However, schools teach English as a language from grade three onward, to increase international opportunities for students after finishing their education. Furthermore, they can also retain their local cultural concepts and mother tongue. The Deputy Director of Education of the Bilingual Unit of the Ministry of Education, Priyatha Nanayakkara, even stated that the ultimate goal is to provide bilingual education to all students in Sri Lanka. This is to better equip them for the globalized world. Consequently, Ordinary Level (O/L) examination results have increased from a 50 percent pass rate to a 90 percent pass rate. Even more impactful has been the minimization of a social gap between those who are able to speak English and those who are not able.
They are investing in the future – Since 2011, Sri Lanka has sought out overseas investors to be able to welcome more international students into its system of higher education. In 2017, Sri Lanka received a $100 million World Bank loan to expand their STEM enrollment and research opportunities in their higher education level, as well as improve the quality of related degree programs. The government's goal is to open up its higher education system to international students by 2020.
Reduction of gender disparities – The Free Education system has fostered the notion of equal opportunity. In fact, in higher levels of education, women are more likely to complete their education than men. For example, 60 percent of those enrolled in higher education were women in 2015. Of the graduating students, 68.5 percent were female. However, while the education system seems to be promoting gender equality, the political environment of Sri Lanka is still sparse in terms of women, a disparity when compared to their educational success that must be addressed to continue their progress.
Parental concerns – Next in the list of facts about education in Sri Lanka is parental concerns. A poll between the Business Times and Colombo-based Research Consultancy Bureau recorded the responses of 800 people. The poll revealed the anxieties of students, parents and teachers surrounding the prioritized education system in Sri Lanka. When the respondents were asked if students were being given too much work leading up to examinations, about 70 percent responded yes. Parents argued that the high school system is especially flawed and are urging for a concrete educational plan for future students.
Disparities Between Urban and Rural Schools – Many rural schools, such as the Sri Bodhi school, do not have access to the internet. This is a huge drawback in teaching methods when compared to urban schools. While education is required for all children to a certain age, attendance in rural classes is significantly less than that of urban school classrooms as well. Flora Thin, a University of St. Andrews student, traveled to Sri Lanka with the organization Plan My Gap Year and visited a school in Ambalangoda. Thin recounted the school she attended was a house with three classrooms with few resources. Yet, many considered it fortunate in comparison to surrounding institutions. This is due to the fact that the school received support from the Gap Year program, while others do not.
Progress in Education
These eight facts about education in Sri Lanka illustrate its tremendous progress since achieving independence. But, it is clear there is still much to do before Sri Lanka has ironed out their education strategy. However, these eight facts about education in Sri Lanka depict the substantial progress made in the past few years as proof that the country is on the path to providing its children with the education necessary to succeed in the world today.
– Adya Khosla
Photo: Flickr
https://borgenproject.org/wp-content/uploads/logo.jpg
0
0
Kim Thelwell
https://borgenproject.org/wp-content/uploads/logo.jpg
Kim Thelwell
2019-07-17 08:19:48
2019-12-17 14:46:50
8 Facts about Education in Sri Lanka