Seven Facts About Poverty in Poland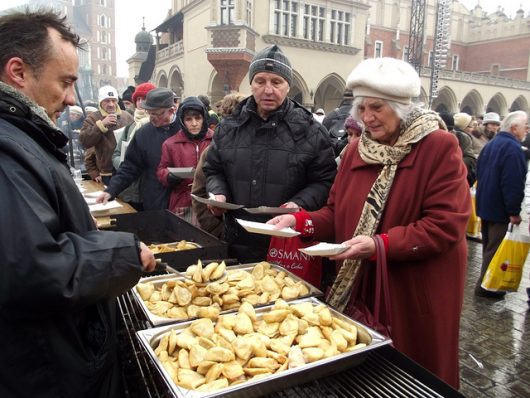 Poland is not a poor country by any means, but the region has historically possessed little wealth due to occupation, wartime and political mistreatment. As such, alleviation of poverty in Poland has been a focal point of recent Polish governments. Discussed below are the leading facts about poverty in Poland, and how the issue is addressed at the national and international level.
7 Key Facts About Poverty in Poland
Poverty in Poland has been steadily decreasing since 2004. Over the past decade, the country has cut the population of people living on less than $5 a day in half, from 20 percent to 10.
Poland's government spends heavily on social resources, with a quarter of the nation's GDP spent on pensions, public health care, public education and other social services.
Compared to other parts of the world, poverty in Poland is shallow. There are very few people living in dangerously extreme poverty or hunger. Less than a tenth of the population live on $2 a day or less.
Income inequality in Poland is also relatively low. In a World Bank ranking of income inequality, Poland scored significantly better than the United States and Russia with stratification levels near the U.K. and France.
While they are rarely in extreme poverty, many young people in Poland live on very little due to a lack of employment. Overall unemployment in Poland is at 14 percent, but is 25 percent for those who primarily seek industrial jobs.
Poland's heavily industrial economy is something of a double-edged sword. GDP growth was mildly hindered by the 2008-9 global economic downturn when compared with other European nations. This growth, however, has proven slow with an average of a one percent annual increase.
Poland seeks to both decrease rural poverty and increase its economic productivity by improving the agricultural sector. The EU has been a major benefactor in this cause, revamping the nation's agricultural policy in 2004 and annually contributing large sums of money. In 2014, Polish farmers received three billion euros in direct payments from EU funding.
These facts about poverty in Poland only begin to scratch the surface of such a complex region. This eastern European nation exudes fiscal prosperity amidst underlying unemployment and rural poverty, a conundrum that needs to be solved.
– John English
Photo: Flickr
https://borgenproject.org/wp-content/uploads/logo.jpg
0
0
Borgen Project
https://borgenproject.org/wp-content/uploads/logo.jpg
Borgen Project
2016-09-11 01:30:20
2020-06-06 09:49:25
Seven Facts About Poverty in Poland