Examining Women's Rights in Tajikistan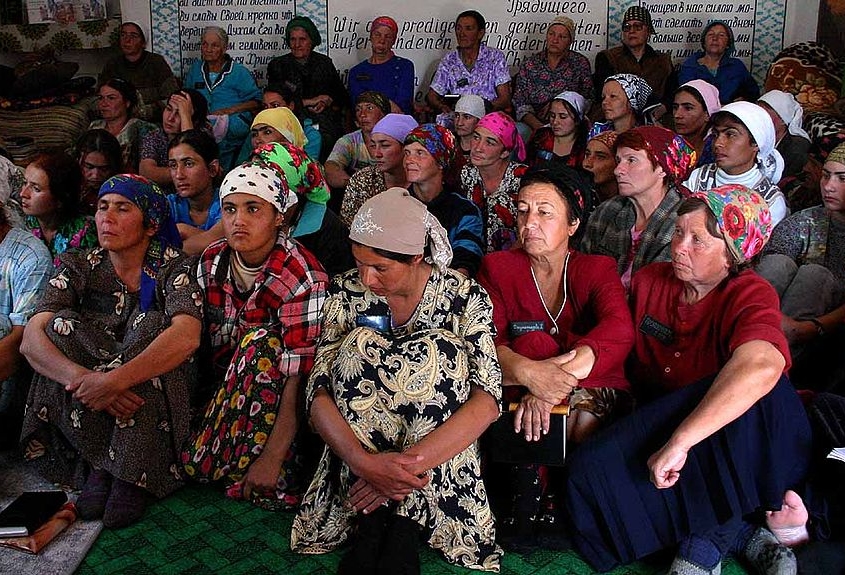 The Republic of Tajikistan is a Central Asian country landlocked by Afghanistan, Uzbekistan, Kyrgyzstan and China. Known for its mountainous terrains, Tajikistan was a union in the USSR until its collapse in 1991. The country currently has a population of approximately 9.6 million, with females accounting for slightly more than 50%. Unfortunately, women's rights in Tajikistan is an issue that manifests itself in various different forms.
Maternal and Child Statistics in Tajikistan
The average fertility rate in Tajikistan is 3.6 births per woman, which is higher than the global 2.5 births. In 2017, maternal mortality stood at around 17 deaths per 100,000 births. Fortunately, this is a significant decrease in deaths compared to 1993 when the country noted 151 deaths per 100,000 births. The female child mortality in 2018 stood at approximately 30.6 deaths per 1,000 births, which is lower than the male child mortality rate of 38.9 per 1,000 births.
Political and Workplace Representation of Women
In Tajikistan, traditional gender roles are upheld and female political representation is quite uncommon. In 2015, women held only 19% of parliament seats. Despite this statistic, female political representation in local government is higher at around 40%. However, this was not always the case. Before the collapse of the USSR, Tajik women and men saw equal economic and political opportunities. Through its cessation from the Soviet Union along with civil unrest between 1992 and 1997, Tajik society began to reinforce strict gender roles.
Sexual and Domestic Violence Against Women
In 2011, Tajikistan had rape rates of 0.6 cases per 100,000 people and HIV rates in women stagnated between the years 1999 and 2018. Moreover, in 2011, estimates indicated 48.5 cases of assault per 100,000 people, which reflects one of the most significant women's rights issues in Tajikistan: Domestic violence.
Women in Tajikistan frequently endure severe domestic violence. According to Amnesty International, "Between a third and a half of women in Tajikistan have experienced physical, psychological or sexual abuse by husbands or other family members." Through various studies conducted between the years 2017 and 2018, data reveals that 26.4% of Tajikistan women experience "lifetime physical and/or sexual intimate partner violence." Although the Law on the Prevention of Violence in the Family came into effect in 2013, the nation is yet to criminalize domestic violence. Thus, cases of abuse often go underreported. The normalization of abuse permeates throughout Tajikistan and the United Nations reports that at least "one in five women" in Tajikistan are victims of domestic violence.
Current Economy for Women in Tajikistan
Due to the lack of job opportunities and high poverty rates, many Tajik men seek job opportunities in neighboring countries, especially in Russia. In 2010, 16% of Russian migrants were Tajik and more than 1 million Tajik citizens go to Russia for work reasons. In a 2019 research article by Edward Lemon for the Migration Policy Institute, the writer asserted that "the actual number of Tajiks in Russia may be much higher, with as many as 40% working illegally, and therefore, not appearing within the official statistics." Moreover, the article reveals that "30% to 40% of Tajik households have at least one member working abroad."
As men are often the ones traveling for work, women in Tajikistan must singlehandedly take care of their households. The China Global Television Network America conducted an interview with Tajik wives in the Dushanbe area of Tajikistan which borders Uzbekistan. Parvina, a mother of four, had been caring for her children by herself ever since her husband left for Russia two years ago. Although Parvina receives money from her husband, many other wives do not get any financial support at all. However, because of the lack of males in the country, Tajik women are now able to take on traditionally male roles both in the household or workplace in order to support their families. 
Efforts to Empower Women and Improve Women's Rights in Tajikistan
While women in Tajikistan often suffer from domestic violence and are not given equal social and political opportunities, things are slowly changing. The Organization for Security and Co-operation in Europe has an office in Tajikistan that aids women's resource centers in the area. According to the OSCE website, these resource centers are "the largest civil society network in Tajikistan promoting gender equality and empowering women and girls to claim their rights and access state services and institutions."
These resource centers offer "free psychological counseling and rehabilitation for women in Tajikistan" who are victims of domestic violence and human trafficking. Oxfam International is also an organization that strives to empower Tajik women. Its "Transforming Care Work" aids rural communities in Tajikistan by creating leadership groups for women. This allows women to become financially independent, which can, in turn, alleviate the high poverty rates the country experiences.
Despite their lack of rights, high domestic abuse rates and lack of economic opportunity, women in Tajikistan are slowly achieving empowerment. If the Tajik government places more emphasis on the prevention of domestic violence and increased support for women in politics and the workforce, Tajikistan will continue to improve and become a significantly safer place for women.
– Kelly McGarry
Photo: Wikimedia Commons
https://borgenproject.org/wp-content/uploads/logo.jpg
0
0
Kim Thelwell
https://borgenproject.org/wp-content/uploads/logo.jpg
Kim Thelwell
2020-12-18 01:30:52
2022-04-08 05:15:03
Examining Women's Rights in Tajikistan