10 Women Who Have Helped Fight Global Poverty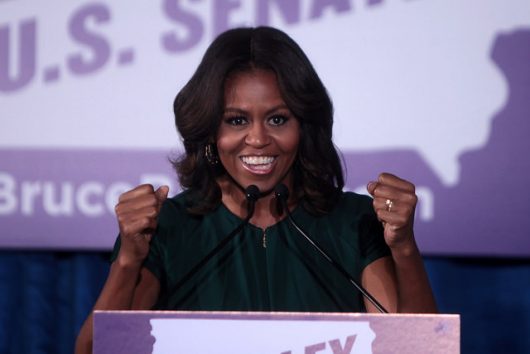 Female leaders play a critical role in helping to end global poverty. Emphasizing the need for equity, education and improved health care services, these women have used their minds and resources as means for bettering the conditions of the world. Here is a list of 10 women who have helped fight global poverty.
Michelle Obama
Recognizing the necessity of educating girls and women around the world, Michelle Obama has continually advocated on behalf of the world's poor. Citing education as a leading contributor to fighting global poverty, Michelle Obama has suggested that, by giving girls and women access to schooling, global poverty can be ended. In 2016, she launched a Twitter campaign entitled #62milliongirls, seeking to raise awareness regarding the number of women who remain uneducated. That year, with funding from the Millennium Challenge Corporation, she announced plans to provide $100 million for education efforts. Her efforts to emphasize education have managed to hinder the perpetuity of poverty throughout the world.
Angela Merkel
The current chancellor of Germany, Angela Merkel provided Global Citizens with a straightforward message prior to the G20 Summit. She stated that the G20 group of major economies has "a shared responsibility to enable people worldwide to live in dignity." Suggesting that the interconnectivity of the world established through the Internet and economy links people now more than ever, she emphasized sustainability and development. Merkel has established an ongoing desire to reduce poverty and conflict by teaming up with African nations to create stability. When she was declared Time Magazine's Person of the Year in 2015, one of the main reasons cited was her tremendous generosity with refugees, having provided one million with refuge.
J. K. Rowling
Another of the most influential women who have helped fight global poverty is J. K. Rowling. She is a tremendous advocate on behalf of the world's orphans, demanding that they receive more help than they were once provided. The author of the Harry Potter series established the Lumos Foundation, which works to help millions of children worldwide to regain their right to a family in the face of poverty, disability and minority status.
Oprah Winfrey
Oprah Winfrey does tremendous work for girls globally. Like Michelle Obama, Oprah values the role of education in improving women's quality of life. As a result, she has funded a number of organizations that seek to grant women additional rights worldwide, including Women for Women International and Girl Effect. Women for Women International has assisted over 462,000 marginalized women in unstable, war-torn nations. Girl Effect prides itself on creating a new normal, where girls previously living in poverty are empowered through technology and safe spaces.
Melinda Gates
One of the two leaders of the Bill and Melinda Gates Foundation, Melinda Gates has made incredible strides toward ending global poverty. Emphasizing the need for quality healthcare and education in order to end poverty, Gates has used her organization to help provide children in poverty with exactly that. In particular, for many communities around the world, the Gates Foundation has provided financial tools to the poor, taught farmers how to increase production sustainability, helped women with family-planning, increased college completion rates and combatted infectious diseases such as malaria, HIV and polio.
Angelina Jolie
The recipient of the 2005 Global Humanitarian Action Award for her work with the U.N. Refugee Agency and refugees themselves, Angelina Jolie epitomizes global advocacy. Supporting 29 charities, including the Alliance for the Lost Boys of Sudan, the Clinton Global Initiative, Doctors Without Borders and the U.N. Millennium Project, Jolie has done unbelievable work in terms of ending global poverty. In 2016, Jolie worked to bring light to the ongoing need to help Syrian refugees.
Cindy Levin
Cindy Levin is another one of the most influential women who have helped fight global poverty. Seeking to engage children and stay-at-home parents in global child survival, she works to teach grassroots volunteers to fundraise through an organization known as RESULTS. In October of 2012, Levin traveled to Uganda with the U.N. Foundation's [email protected] Campaign, personally meeting mothers living in poverty. On that journey, she accompanied UNICEF to health programs days, which provided vaccines and AIDS testing to people living in the area.
Ellen Gustafson
Sustainable food system activist, author, innovator and social entrepreneur Ellen Gustafson has given TED talks about the necessity of using food as a means for ending global poverty. The creator of the ChangeDinner campaign, she seeks to change the food systems at dinner tables and in schools around the world. She is now a term member of the Council on Foreign Relations.
Ertharin Cousin
The former executive director of the World Food Programme, Ertharin Cousin has been fighting global hunger since 2012. Using innovative tactics, Cousin implemented a program called "forecast-based financing." The program utilized weather models to identify droughts prior to their occurrence in order to emphasize proactivity. Ultimately, the goal of this program was to enable countries to grow enough food before disaster hit, saving both money and lives.
Jacqueline Novogratz
Jacqueline Novogratz is the founder and chief executive officer of an organization called Acumen. Acumen prioritizes the voices of the world's poor, using them as a compass for eliminating poverty. By creating the organization, Novogratz helped make significant strides in emphasizing what the poor truly need.
Clearly, women who have helped fight global poverty play a large role in beginning to combat the issue. While male, female and gender non-binary leaders continue to contribute significantly, it is still incumbent upon governments to provide funds to help address the problem. Only by ensuring that each of these entities works in tandem can the world truly ensure that poverty comes to an end.
– Emily Chazen
Photo: Flickr
https://borgenproject.org/wp-content/uploads/logo.jpg
0
0
Borgen Project
https://borgenproject.org/wp-content/uploads/logo.jpg
Borgen Project
2017-07-21 01:30:13
2020-06-23 07:35:35
10 Women Who Have Helped Fight Global Poverty