TSEP Enhances Access and Quality of Education in Sri Lanka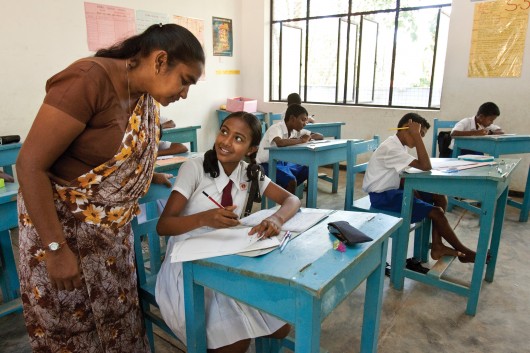 The government of Sri Lanka launched Transforming School Education Project (TSEP) in 2012 to run through 2016. According to News Line, the objective of TSEP is enhanced access and quality of primary and secondary education. The project addresses the country's underfunded education, wide ranged regional disparities and limited focus on key skills that students need to compete in today's global economy.
"IDA has provided financing for the education sector in Sri Lanka over a long period of time to improve the quality of human capital through effective education and skills development," The World Bank said of their contribution. "This $100 million project is the fifth education project in Sri Lanka."
Strategies used to achieve school enrollment and attendance included health and nutrition programs to provide meals for children in poor communities and the building of sanitation facilities. In addition, special education programs were implemented for students who required alternative forms of education.
TSEP contributed to a spike in students reaching grade 11 up from 82 percent in 2011 to 85 percent in 2016. Of 3.2 million students, 52 percent were female.
School-based management and teacher development improved student learning and strengthened academic performance. One reform established a system for conducting national assessments of learning outcomes in order to better reflect modern international trends in curriculum practice. TSEP seeks to orient Sri Lanka's education system to the world of work by focusing on subjects like English, IT, science, mathematics, commerce and management, as well as improving current curricula.
According to the World Bank, Sri Lanka has 4 million school children but only 215,000 teachers and around 10,000 schools. Only 7.3 percent of the government budget was invested in education in 2014.
By backing TSEP, The World Bank is supporting the Sri Lanka government's development initiative Program for School Improvement. School officials are expected to be joined by local communities in the management and administration of schools, as greater responsibility and power will be delegated to them.
– Emily Ednoff
Photo: Flickr
https://borgenproject.org/wp-content/uploads/logo.jpg
0
0
Borgen Project
https://borgenproject.org/wp-content/uploads/logo.jpg
Borgen Project
2016-04-15 01:30:05
2020-06-19 14:17:20
TSEP Enhances Access and Quality of Education in Sri Lanka