Top 10 Facts About Hunger and Nutrition in Austria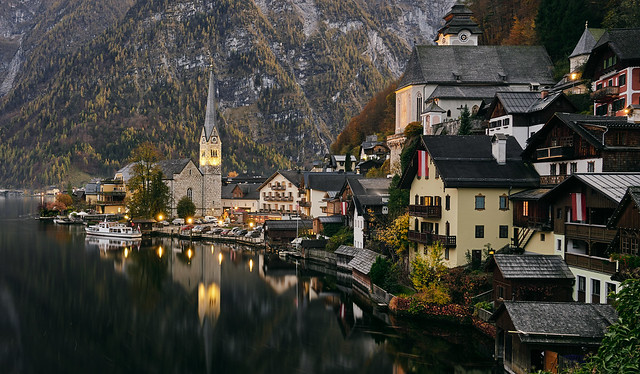 After decades of making strides in the fight against hunger and food insecurity, hunger is on the rise. The Food and Agriculture Organization of the United Nations (FAO) reported that the number of undernourished people has risen. Around 821 million people were undernourished around the world in 2017, up from 804 million in 2016.
This article will address the top 10 most interesting facts about hunger and nutrition in Austria. Austria, like many other European nations, is lucky to have the socioeconomic ability to provide basic needs to most of their citizens, but Austria is not without flaws. These flaws will be addressed, as well as the progress Austria has made in its fight against hunger and malnutrition.
Top 10 Facts About Hunger and Nutrition in Austria
Agricultural Land
Austria has a very low amount of agricultural land. This land, defined by the OECD as "land area that is either arable, under permanent crops, or under permanent pastures" is necessary for a country to grow its own food. Because Austria does not have a large amount of agricultural land, the nation relies on imports. Best Food Importers names Austria as one of the most important food importers, with a constant need for imports of fruits and vegetables.
Buying Local Food
Not only does Austria have a comparably small amount of agricultural land, but it also faces more problems in the fight for food security for its local populations. Due to land-grabbing, local populations find it more difficult to buy locally, hence Austria's aforementioned need to import food. However, Austria's government is taking steps to fix parts of the problem. The Austrian Development Agency (ADA) has shown support for sustainable and fair land-use policies by supporting land rights for local populations and inclusion of disadvantaged populations in decision-making.
Dietary Choices
Austrians consume more saturated fatty acids and salt than the Food and Agriculture Organization of the United Nations (FAO) recommends. Austrians consumed 12.7 percent of their total calorie intake from saturated fatty acids; the FAO recommends 10 percent. The FAO recommends 5 grams of salt intake a day. Austrian men, by average, consumed 9 grams of salt a day, and Austrian women consumed 8 grams per day.
Obesity Rates
In 2008 estimates, approximately 60 percent of Austrian men were found to be overweight, compared to the 48.5 percent of Austrian women being overweight. However, in terms of obesity, men and women seem to be nearly equal with 21 percent of Austrian men being considered obese, and 20.9 percent of Austrian women being obese. By 2020, the World Health Organization (WHO) predicts that obesity numbers should rise to 25% for both men and women, and is predicted to steadily rise after that as well. This is a very important nutritional fact that needs to be corrected by the Austrian government.
Stacking Up Against Other Nations
Even though those numbers seem exceptionally high, when comparing these numbers to other Organization for Economic Co-Operation and Development (OCED) member countries, Austria ranks very well. Austria self-reported that in 2014, 46.7 percent of its population over 16 years of age were overweight or obese. How does this compare to the other OECD countries? The United Kingdom's overweight and obese population stands at 61.4 percent of its population over the age of 16, while the U.S. self-reported numbers of 65.1 percent of its 16+ population as obese or overweight, but it's been measured to actually be 70 percent. Italy and Norway were the only European countries that measured better than Austria.
Good Nourishment Rates
Austria's undernourishment percentages are low compared to the world average. In both 2000 and 2016, Austria's prevalence of undernourishment was measured at 3 percent of its population. Currently, 10.6 percent of the world's population is undernourished. This is once again, a place where nutritionally speaking, Austria is doing very well compared to other nations, but progress can continue to be made.
7. Food Security
According to the Global Food Security Index, Austria ranks 14th in the index of the most food-secure countries in the world. Though in 2014 it was ranked as second, 14th still shows that Austria is still very food secure in comparison to most of the world. Affordability of food is Austria's highest score, ranking 8th in affordability.
Food Quality
According to Oxfam, Austria ranks 4th overall on their list of 125 countries and their performance in the realm of supplying enough well quality food for its people. Austria was only ranked lower than France, Switzerland and the Netherlands. Providing enough to eat, as well as providing high-quality food boosted Austria into the 4th place ranking.
Water Quality
Water in Austria is perfect. Austria provides 100 percent safe drinking water to 100 percent of its people. The water quality in Austria is superb as Austria has very strict environmental protection laws. Clean water is necessary for a healthy diet for many reasons, one of them being that the quality of food that can be provided to a population is dependent on the quality of water that went into the process of growing that food.
ADA Efforts
The ADA is doing its part in aiding countries that struggle with doing the same for their own populations. The ADA aids in water sanitation projects in countries such as Albania and Uganda. Not only are Austrian's governmental agencies aiding in the fight for universal clean water, but NGOs such as CAREAustria are aiding in the fight as well. For example, CAREAustria has helped bring sanitation technology to parts of Ethiopia that have been damaged by violence and turmoil.
Hunger and Nutrition in Conclusion
As represented by the facts above, Austria does have some flaws within its fight against poor nutrition and hunger. High import rates and less sustainability is a problem, as is consuming too many unhealthy nutrients. All of these problems can be fixed by including both rural and urban populations in decision-making processes, as well as educating the populations on what a healthy diet looks like. And with the progress Austria has already made in providing high-quality food and water, as well as very affordable food prices, there does not seem to be a reason the progress Austria has made in the fight against hunger and poor nutrition won't continue.
– Kurt Thiele
Photo: Flickr
https://borgenproject.org/wp-content/uploads/The_Borgen_Project_Logo_small.jpg
0
0
Kim Thelwell
https://borgenproject.org/wp-content/uploads/The_Borgen_Project_Logo_small.jpg
Kim Thelwell
2019-06-21 10:03:05
2019-12-18 15:08:54
Top 10 Facts About Hunger and Nutrition in Austria