Top 10 Facts About Girls Education in Jordan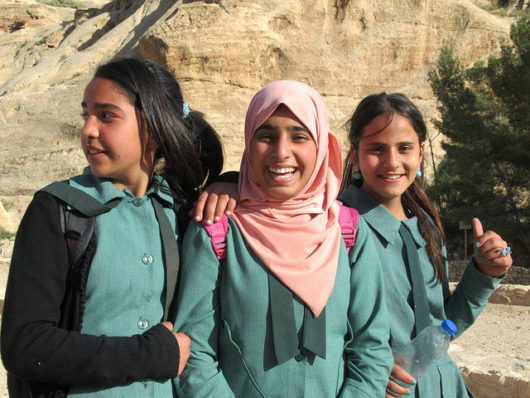 Education is a weapon that can transform lives, especially for the female population. This fact is true for the girls in the small Arab country of Jordan as well.
Sending a girl to school allows her to build confidence and contribute to the country's economic, social and political development. Although education in Jordan has reached gender parity in 1999, social norms and traditions, along with other factors, block Jordanian girls from fully utilizing their education in the job market. In the article below, top 10 facts about girls education in Jordan are presented.
Top 10 Facts About Girls Education in Jordan
There is no specific gender disparity in Jordanian primary schools. Over 94 percent of girls attend school compared to 95 percent of boys. Girls in rural areas are just as likely as girls in urban areas to attend school.
About 10 percent of girls who are secondary school age (12-17 years old) are not participating in the education system, compared to 15 percent of male youth of the same age. Although the number is in favor of girls, the percentage is not satisfactory and is mainly the consequence of child marriage or low school performance followed by dropout.
Since 14 percent of the country lives below the poverty line, child marriage occurs often among Jordanian girls in order for parents to be relieved of their financial responsibility. Around 13 percent of girls in Jordan marry before turning 18 years of age. Over 86 percent of girls who marry under the age of 18 have only finished their elementary education. The situation is not better for the Syrian refugee girls that are coming to Jordan since 33 percent of them are already married. This significantly decreases their chances of school enrollment.
The Syrian refugee crisis has strongly impacted on education in Jordan. It has created overcrowded classes and increased educational costs for the government. The government strives to improve its educational standards for girls and boys alike despite this setback caused by the humanitarian crisis. UNICEF is partnering with the Ministry of Education to educate refugees and supply classroom furniture and learning materials. Plan international Jordan create safe child-friendly spaces for Jordanian and Syrian refugee children under the age of 5, which increases the chances that they will attend primary school.
Jordan has one of the highest literacy rates for girls in the Middle East, which is a staggering 97.3 percent. However, this educational advancement does not transfer over to the job force. Jordan has one of the world's lowest rates of women participating in the workforce at 13.2 percent. If a gender gap in Jordan's workforce continues to exist, the country will experience a reduction in potential GDP growth of 0.5 to 0.9 percent per year.
A good education is no guarantee that the girl will find employment. Thirty percent of women with a university degree or above are unemployed in the country. The percentage of woman that believe there are obstacles to women's employment is at 76 percent. They consider that these obstacles have a cultural and religious background that pressures women to stay at home, as well as a lack of women's job opportunities.
There is a large socio-economic gap that exists in Jordan. In 2009, only 16 percent of girls from underprivileged households excelled above level 2 math, compared to 57 percent of girls from wealthier households. Costly private schools that usually offer better education are reserved for the upper class of society.
Jordan's government is working to support the empowerment of women and girls. It has partnered with the USAID Mission in order to create policy reforms. Together, they have already developed 59 laws and procedures that promote gender equality. USAID also supports the establishment of Jordan's first women's caucus in Parliament and has provided 2,343 women with better employment opportunities. The organization also launched its Takamol Project, a five-year program that encourages governments and civil society institutions to address gender equality.
The government seeks to keep girls safe in their learning environment as 59 percent of schools in Jordan have a guard and surrounding fence. Compared to boy's and mixed schools, girl's schools have taken security measures more seriously in order to avoid break-ins or vandalism.
Go Girls is a nationwide initiative that exposes girls to the STEM (Science, Technology, Engineering and Mathematics) subjects by leading hands-on training workshops. This organization specifically targets public schools and refugee camps in Jordan who have little access to technology. Launched in 2015, Go Girls has already educated and helped thousands of girls across the country.
Thanks to the joint effort of Jordan government and organizations such as USAID, UNICEF and other nongovernmental organizations educational opportunities in the Jordan are significantly improving.
As can be viewed from the top 10 facts about girls education in Jordan shown above, the education of the girls in the country can be improved, but the main focus in the future should be on ensuring the girls with equal job opportunities after the successful education.
– Grace Klein
Photo: Flickr
https://borgenproject.org/wp-content/uploads/logo.jpg
0
0
Kim Thelwell
https://borgenproject.org/wp-content/uploads/logo.jpg
Kim Thelwell
2018-12-09 01:30:30
2019-12-17 15:08:45
Top 10 Facts About Girls Education in Jordan