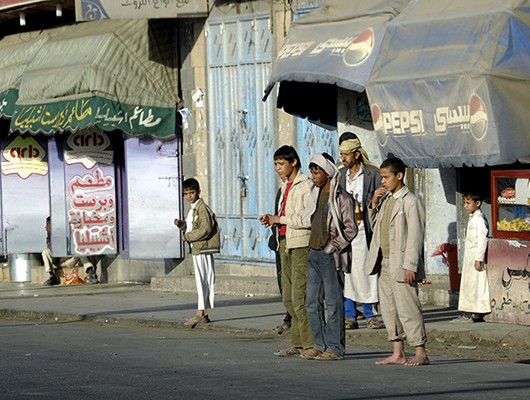 The conflict in Yemen, which has been raging for the past three months, has led to a humanitarian catastrophe that has caused 2,800 deaths, displaced over a million people, and caused 21 million Yemenis to be in dire need of immediate assistance, according to UNICEF. The human rights organization has also projected that in the next 12 months, 2.5 million children will suffer from chronic diarrhea, 1.3 million from pneumonia, and 280,000 from severe malnutrition.
These projections are based off the massive destruction of the country produced by the recent crisis, which has caused immeasurable damage to Yemen's infrastructure and has prompted the United Nations to declare that the country now stands on "the edge of civil war."
Yemen, a country of 25 million which contains numerous religious and ethnic factions, has long been a breeding ground for violent extremism, producing some of the worst known-terrorists in recent history, such as Osama Bin-Laden. The recent conflict in Yemen represents one manifestation of the ethnic and religious tension which characterizes Yemenese society, which exploded into full-blown fighting when the Houthi's (an Iran-backed Shi'a rebel group from the North) forced Sunni President Abdrabbuh Mansour Hadi out of the capital Sanaa in February. Mr. Hadi is now seeking refuge in Riyadh, Saudi Arabia, while his country bears the near-daily brunt of attacks on the part of Houthi rebel groups and an Arab-backed coalition, led by Saudi Arabia and including Egypt, Morocco, Jordan, Sudan, the United Arab Emirates, Kuwait, Qatar and Bahrain.
Yemen's healthcare system, which was in poor condition prior to the recent fighting, has been especially hard-hit as a result of the crisis, which has resulted in dwindling medical supplies and the destruction of numerous hospitals throughout the country. A blockade by the Arab coalition, and restrictions that were placed on the commercial import of fuel, food, and medical supplies by the international community have helped to exacerbate the country's healthcare problems, making it impossible for the approximate 90% of Yemenis who depend upon these supplies to gain access.
Aid workers also say that the crisis has contributed to a rising number of preventable deaths, with an increasing number of children dying from relatively minor illnesses, such as strep throat. According to the World Health Organization, an inability to access even basic medical care, like obstetrical support during childbirth, and the closing of national programs to fight diseases such as tuberculosis, has caused a surge in the number of people who require urgent medical care, which stood at 8.6 million in March. In addition to lack of supplies, the frequent droppings of bombs and raiding of hospitals carried out by Houthi groups have led to the closure of over 158 health facilities. According to officials, this has contributed to the deaths of 470,000 children under the age of five, as well as the outbreak of diseases such as polio and measles throughout the country.
As conflict continues to spiral out of control in Yemen, humanitarian organizations have begun to adjust their response to the country's humanitarian and health crisis, which many officials believe to be getting worse. According to Dr. Ahmed Shadoul, WHO's Representative to Yemen, "Yemen's health system is on the verge of breakdown, and it is only thanks to the heroic efforts of the country's health workers, the resilience of its brave people and the tireless efforts of national and international humanitarian organizations that any semblance of health care is being provided."
In order to attempt to hold this fragile structure of Yemen's healthcare service together, the WHO released a revised Yemen Humanitarian Response Plan on Friday, June 17. The Revised Plan calls for $152 million to enable the WHO and its partners to meet the health needs of 15 million Yemeni citizens, whose health and livelihoods continue to be devastated as their country devolves into violence.
– Ana Powell
Sources: The Guardian, UNICEF, Washington Post, World Health Organization
Photo: UN Multimedia
https://borgenproject.org/wp-content/uploads/The_Borgen_Project_Logo_small.jpg
0
0
Borgen Project
https://borgenproject.org/wp-content/uploads/The_Borgen_Project_Logo_small.jpg
Borgen Project
2015-07-23 11:03:26
2017-01-11 10:50:50
The State of Healthcare in Yemen Today