STEM Programs in Kazakhstan Invest in Young Engineers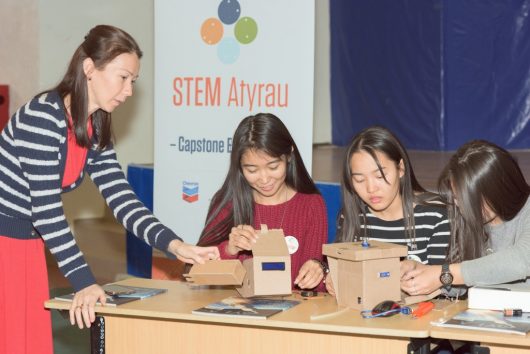 Robot battles, solar trackers and a laser that shoots for the moon — these are the inventions of western Kazakhstan's youngest engineers. As part of their experience with the Zangar Initiative, which runs several STEM programs in Kazakhstan, these students combined the math and science they learn in school with the technological skills and hands-on experience that the initiative provides. The results seem almost like science fiction.
The results seem almost like science fiction. Although supported by Chevron and the International Youth Foundation, the community propels the initiative. The young people and their families chose the name "Zanger," which is Kazakh for "mighty."
The participating students are taught to use the engineering design process, a step-by-step guide for how to turn a brilliant idea into a concrete model. The process gives students a straightforward way to address a problem. They also learn skills like C programming and 3D design, which are not in the school curriculum, and have access to high-tech equipment.
The teens who participate in the STEM Capstone after-school clubs learn more than just technical skills. They often work in groups and learn both teamwork and stress management. One of the key tasks of a teammate, besides helping with design, is to steer his or her fellow engineers away from the temptation to give up should the early prototypes fail.
Perseverance is always rewarded. Many of these students go on to win regional and even national competitions. One student who created a laser designed to beam Helium-3, a potential clean energy source, from the moon to the earth, received a scholarship to the university of her choice in Kazakhstan.
The students of these STEM programs in Kazakhstan gain confidence in themselves and have high motivation to continue learning. Many of them gain the courage to become entrepreneurs. The program also opens their eyes to the needs of the community, inspiring service work and volunteering.
In December 2016, the city of Atyrau hosted its first STEM and English fair, featuring games and activities provided by the Zangar Initiative. Government officials hope that STEM programs in Kazakhstan will inspire a new generation of scientists and entrepreneurs, promoting economic and technological development within the country.
– Emilia Otte
https://borgenproject.org/wp-content/uploads/logo.jpg
0
0
Borgen Project
https://borgenproject.org/wp-content/uploads/logo.jpg
Borgen Project
2017-08-09 01:30:24
2020-07-20 10:09:16
STEM Programs in Kazakhstan Invest in Young Engineers