Scholarships Provide Education for Syrian Refugees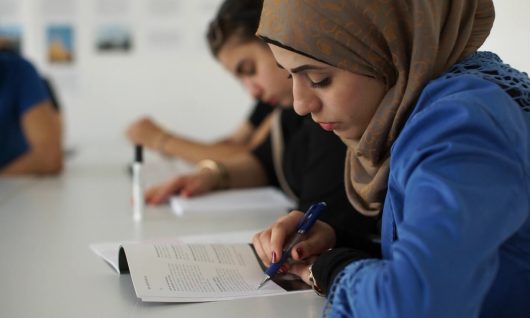 A new set of academic scholarships is helping to provide post-secondary education for Syrian refugees.
Jusoor is an organization dedicated to addressing the educational needs of those affected by the civil war in Syria. To date, the organization offers over 390 scholarships and has funded 74 students. The majority of scholarships they offer are university partnerships, such as with the University of Cambridge, Oxford, and the London School of Economics.
The organization itself is comprised of Syrian expatriates who believe in the importance of offering opportunities for the youth in their native country. They hope this initiative will help support the country's development and help it overcome its unique challenges.
According to their website, the volunteers at Jusoor "hope for a nation that embraces democracy, respects human rights and rule of law and encourages free speech and the exchange of ideas."
Education for refugees is important not just in Syria, but around the world. According to the U.N. Refugee agency, education is a basic human right, defined in the 1989 Convention on the Rights of the Child and the 1951 Refugee Convention.
However, of the 10 million refugees under the age of 18, less than half have access to the education they need. Often, education can provide a safe and stable environment where none else is offered, fostering healthy relationships and teaching life-saving information.
Most recently, Jusoor partnered with universities in Canada for their 100 Syrian Women program, which focuses particularly on offering scholarships to Syrian women. This gives them the opportunity to study abroad when they would not have otherwise had it. So far, out of 900 applicants, 26 women have received scholarships, and the organization hopes to go much further than that.
In an interview with The Star, Leen Al Zaibak, co-director and co-founder of Jusoor, said "we feel if we invest in women, it is a huge investment in the community. The 100 women who benefit from this opportunity are going to affect the lives of 10,000 other Syrians."
In addition to their scholarship programs, Jusoor runs three primary and middle schools for Syrian children in Lebanon to provide further education for Syrian refugees.
– Sabrina Santos
Photo: Student World Online
https://borgenproject.org/wp-content/uploads/logo.jpg
0
0
Borgen Project
https://borgenproject.org/wp-content/uploads/logo.jpg
Borgen Project
2016-07-30 01:30:00
2020-06-18 13:39:26
Scholarships Provide Education for Syrian Refugees