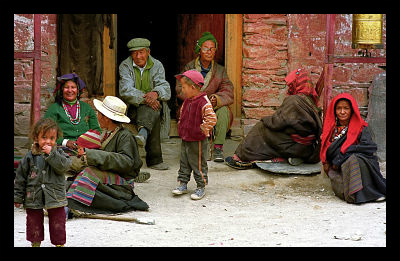 Tibetans have long been among the poorest people in Asia, and despite some improvements over the past decade, poverty remains widespread. Poverty in Tibet has a high rating in China, where 34 percent of the population live in extreme poverty. The poorest villagers live on only $100 per year.
The Chinese government has spent millions of dollars in its efforts to develop Tibet and lift people out of poverty. The government in Beijing has been eager to highlight its successes, and to its credit, it has helped to raise the living standards for many Tibetans. It has also significantly improved access to medical care, raised life expectancies and reduced child mortality rates.
But of course all of this has come at a heavy price. The Chinese annexation of Tibet was well documented for its brutality, and human rights violations remain widespread. Periodic protests and crackdowns continue. Millions of Han Chinese have settled in Tibet and dominate the local government and economy. Ethnic Tibetans are now a minority by many counts.
The Chinese government has recently claimed that it has reduced poverty amongst Tibetans by half over a three year period. According to government figures, the poverty rate fell from 34 percent to 18 percent between 2010 and 2013. It attributes this success to pension programs aimed at supplementing income and a housing relocation program.
But many are skeptical of the government's claims and the housing relocation program has attracted a lot of outside criticism. More than two thirds of the Tibetan population has been forcibly resettled and provided with a government subsidy to build a new house. But in many cases the amount of money provided was not enough to pay for the construction and many impoverished Tibetans have been forced to go deep into debt to cover the cost.
Many resettled farmers have lost their source of livelihood and are struggling to find other ways to earn a living. A lot of Tibetans are now completely dependent on government subsidies.
There is still a long way to go in the fight to end poverty and improve the human rights situation in Tibet. But there has definitely been progress and even the Dalai Lama admits this. In fact, the Dalai Lama has backtracked on his demands for Tibetan independence and, recognizing China's resources to develop Tibet and improve living conditions, says he believes Tibet will be better off staying with China. His main wish is for the government to improve the human rights situation and respect Tibetan culture and autonomy.
– Matt Lesso
Sources: CNTV, Financial Times, Ref World, Tibetan Review 1, Tibetan Review 2,
Photo: Flickr
https://borgenproject.org/wp-content/uploads/logo.jpg
0
0
Borgen Project
https://borgenproject.org/wp-content/uploads/logo.jpg
Borgen Project
2015-04-26 08:00:33
2020-06-25 16:11:30
Poverty in Tibet