Poverty Progress Slows in Bangladesh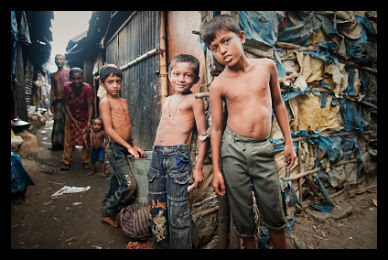 Bangladesh is a densely populated country in south-central Asia, that encompasses a predominantly Muslim population. Dhaka is the capital of Bangladesh, and is characterized by not only a dense population, but also social and economic diversity. It is one of the most industrialized cities in Bangladesh, with major industries specialized in leather goods, ceramics and electronic products.
Progress in Bangladesh is apparent since it is in a position to reach its Millennium Development Goals; however, it remains a low-income country with substantial inequality, deprivation and poverty. With over 45 million people in Bangladesh, approximately one-third of the population lives below the poverty line with a majority living in extreme poverty. Poverty in rural areas is more severe, with 36 percent of the population in poverty whereas the urban centers are estimated at 28 percent. Plagued with an inadequate diet and massive food shortages, over half of the rural children are chronically malnourished and 14 percent suffer from acute malnutrition.
A large source of this poverty is due to a lack of economic opportunity and a reliance on farming. Agriculture accounts for less than 20 percent of the GDP, however the farm sector is the lifeline of over 40 percent of the labor force. Due to urbanization and industrialization, the amount and availability of farmland is decreasing, and the land itself is less cultivable. A lack of technology and access to open bodies of water has affected the fisheries of Bangladesh as well.
A large source of poverty in Bangladesh has accumulated by overpopulation and climate change. Population density has placed significant pressure on the country's natural resources, yet the urban and rural industries are unable to provide jobs for all Bangladeshi people; many citizens have been forced to seek work abroad. The impact of climate change has increased Bangladesh's vulnerability, for it is one of the most flood-prone countries in the world. Severe flooding causes detrimental damage to crops, property and livelihoods. Monsoon floods, cyclones and storms significantly impact the rural poor, for their housing is less adequate than the urban centers, and the re-building process is longer, harder and increasingly difficult.
The World Bank released a poverty assessment of Bangladesh studying from 2000-2010 in June of 2013, and concluded with some striking results. The conclusion stated that the development gap ought to be addressed between the East and the West through increasing the economic opportunities for those in both regions. While Dhaka and several other eastern divisions have experienced growth, their western counterparts have remained primarily stagnant and destitute. The growth of Bangladesh is occurring in an uneven fashion, and the impact of remittances, inadequate electricity, roads and access to markets further contributes to the unequal distribution to goods and resources.
– Neti Gupta
Sources: Britannica, Rural Poverty Portal World Bank
Photo: United Nations University
https://borgenproject.org/wp-content/uploads/logo.jpg
0
0
Borgen Project
https://borgenproject.org/wp-content/uploads/logo.jpg
Borgen Project
2015-02-27 04:00:24
2020-07-16 09:44:20
Poverty Progress Slows in Bangladesh