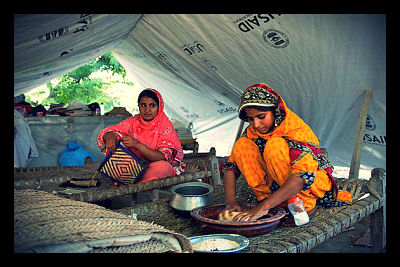 The United States Agency for International Development (USAID) was created in 1961 by The Foreign Assistance Act, which established a separate administration for non-military foreign aid. This consolidated the many separate foreign aid organizations within the US government at the time into one effective agency.
USAID advocates for making international aid the focus of foreign policy.  Under President Truman, foreign policy had two goals:  creating new markets for U.S. exports by relieving global poverty and helping countries prosper through capitalism. Later, in the 1970s, USAID shifted its focus to basic human needs: food security, health, education, jobs and resource management.
Today, USAID focuses on creating sustainable markets, transitioning countries into democracies and rebuilding former areas of conflict. USAID works mainly through non-governmental organizations (NGOs) and diversified aid packages.  Food security, economic growth, education, environmental protection, gender equality, health, innovation, sanitation and conflict management are at the forefront of US foreign policy.  All these factors go into creating sustainable trade partners and positive political relations.
USAID's $20.4 billion funding comes directly from the U.S. government.  Of this, only about $1.35 billion is spent on operating costs.  The rest of the funding goes to "bilateral assistance" provided to countries and regions in need.  Afghanistan is the largest recipient of US economic assistance at $2.24 billion, followed by Pakistan with $970 million.
Past successes include family planning, immunization programs, improved farming techniques and booming energy sectors in developing countries.  Life expectancy in the developing world has increased by 33 percent, immunizations have eliminated smallpox, and infant and child death rates have decreased by 50 percent in the developing world.  HIV/AIDS education and prevention has been a major focus of USAID, with programs set up in 32 countries.  Meanwhile, 1.3 billion people have access to safe drinking water thanks to USAID-led UN Drinking Water Supply and Sanitation Decade.
– Stephanie Lamm
Sources: USAID History, USAID Sites
Photo: Business Week
https://borgenproject.org/wp-content/uploads/logo.jpg
0
0
Borgen Project
https://borgenproject.org/wp-content/uploads/logo.jpg
Borgen Project
2013-10-23 15:14:36
2016-11-21 16:57:58
An Overview of USAID