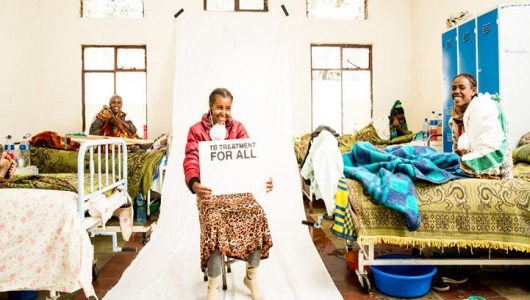 Tuberculosis (TB) is a disease that is largely associated with countries' health care systems and with other factors relating to health such as nutrition, sanitation and housing. Therefore, it is crucial to help combat TB in developing countries, especially where the disease continues to be a problem.
In 2014, the World Health Assembly approved the End TB Strategy, which aims to end the epidemic of Tuberculosis by 2035. Because of this, the Stop TB Partnership Task Force is developing a plan to make significant progress toward the End TB Strategy goal.
Additionally, Ministers of Health from Brazil, Russia, India, China and South Africa (BRICS) developed a strategy to help end Tuberculosis in their countries. The Ministers established a plan that would provide universal access to medicines for all people with Tuberculosis in BRICS countries, as well as low or middle-income countries. Also, they developed a 90-90-90 goal. In BRICS countries, 90 percent of people should be screened for Tuberculosis, 90 percent should be diagnosed and started on treatment and 90 percent of treatments should be successful. Scientific research on things like drug-resistant strains of Tuberculosis and service delivery of TB were also agreed upon by the Ministers. Given that 50 percent of all TB cases and about 60 percent of MDR-TB cases occur in BRICS countries, these efforts could make a large impact.
There are also two new drugs that can be used to treat Tuberculosis: bedaquiline and delamanid. These drugs can help fight TB strains that are resistant to other antibiotics. The United States Agency for International Development (USAID) and the Johnson & Johnson affiliate, Janssen Therapeutics, will provide bedaquiline to patients for free in more than 100 low and middle-income countries where people are suffering from strains of Tuberculosis that are resistant to two or more antibiotics.
Tuberculosis is still a problem in developing countries. There are 24,000 new cases and 4,000 deaths from the disease every day. Recently, however, there have been many new efforts that aim to end TB. If we continue to try and combat Tuberculosis, the tides will change in the war against this disease.
– Ella Cady
Sources: Impatient Optimists, Stop TB, WHO
Photo: Stop TB
https://borgenproject.org/wp-content/uploads/The_Borgen_Project_Logo_small.jpg
0
0
Borgen Project
https://borgenproject.org/wp-content/uploads/The_Borgen_Project_Logo_small.jpg
Borgen Project
2015-08-16 01:30:48
2020-04-03 14:45:42
New Efforts to End TB