Lack of Media Coverage For Syrian Refugees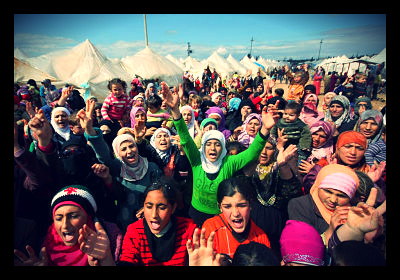 Syrians have recently become the highest population of refugees on the planet at nearly 2.4 million people strong. The UN has, in fact, labeled the Syrian refugee crisis as "the greatest humanitarian crisis in modern history." However, media throughout the world is strangely quiet about their monumental struggle.
In nearly every host country that Syrian refugees have been forced to flee into, they have been met with indifference, hatred or open hostility. Many have even chosen to go back to their Syrian homeland despite the overwhelming violence, deciding it best, if die they must, to die in their homeland. The international community has also been negligent to their needs while the aid that is being given lags far behind what the dire situation calls for.
This is only part of their plight, so why is there such silence in the media considering the scale of the issue? A simple reason may be reflective of the refugees' inability to articulate for themselves; according to Nancy Baron, a UN psychologist who provides mental health to Syrian refugees in Egypt, "the Syrians don't have a voice."
Rattled by warfare and hostility in a foreign land, Syrian refugees are doing their best simply to stay alive. Most find it hard to talk about what they have been through, and even if they did want to talk, few (if any) are willing to listen. The international community seems to still be trying to figure out exactly what is going on in Syria. Most are eager for the peace talks scheduled for January 22 to begin both as a respite from the civil warfare as well as for a chance to hear both sides of the story and garner a better picture of the situation.
Furthermore, a great deal of the problem with attaining media coverage involves the lack of proper reportage. This dearth is caused by several issues, not least of which is the difficulty of finding a 'fixer,' a person who can provide interviewees, translations and safe passages to areas of interest. Due to this scarcity, many media outlets are forced to use the same fixers, and therefore have less to report, leading to empty and sometimes sensationalized news stories.
Moreover, if international media continues to be reticent in interceding on behalf of the Syrians, media outlets within host countries may become anxious to condemn the new Syrian presence. In Egypt, for example, TV presenters affiliated with the Muslim Brotherhood have accused Syrians of undermining their country's well-being and have threatened violence upon the refugees.
Compelling stories have helped the United States and other countries rally on behalf of refugees in the past. There are stories waiting to be told, stories that need to be told. Hopefully, for the sake of millions of innocent lives, they will be.
– Jordan Schunk
Sources: FIDH, The Interpreter, Reuters
Photo: Religious Action Center
https://borgenproject.org/wp-content/uploads/logo.jpg
0
0
Borgen Project
https://borgenproject.org/wp-content/uploads/logo.jpg
Borgen Project
2014-01-17 19:19:02
2016-02-25 09:40:58
Lack of Media Coverage For Syrian Refugees