The Impact of COVID-19 on Poverty in Peru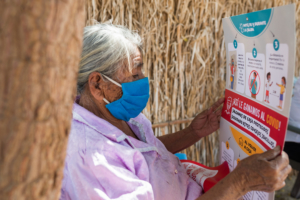 Compared to other countries, Peru has the worst COVID-19 death rate, with "nearly 6,000 deaths for every 1 million Peruvians." On the other hand, the United States has recorded 2,400 COVID-19 deaths per 1 million people. When Peru reached 71 COVID-19 cases, it implemented strict lockdown restrictions on March 15, 2020. In fact, Peru was one of the first countries to take action against COVID-19. The Peruvian government closed the country's borders and advised its citizens to refrain from leaving their homes unless they went to work or bought any necessities for their families. The impact of COVID-19 on poverty in Peru has continued to worsen, but some are taking action to help slow the problem.
Economic Challenges in Peru During COVID-19
Even with lockdown restrictions in place, Peru continued to see an increase in COVID-19 cases because people needed to leave their homes to survive. According to the World Bank, Peru has a poverty rate of 27%, which is about 2 million people. As a result, about 70% of the population have informal jobs that do not provide them with basic health care benefits, social protection or education due to the lack of legal recognition. Most street vendors, domestic workers and waste pickers only make about $100 a month, making it impossible to stay home because they need to work to afford necessities for their families.
Furthermore, 40% of households lack access to a refrigerator. Because of this, families do not have the option to stock up on food for a couple of days. To have enough food to eat in their homes, families need to venture out to busy food markets, a place where COVID-19 can easily spread among people. To illustrate, "when authorities shut down one of Lima's more than 1,200 food markets and performed rapid discard tests on traders, 163 of 842 came back positive."
Due to these economic challenges, the Peruvian government provided disadvantaged families "grants of around $200 each to help them weather the crisis." However, people from the poorer areas of Peru do not have bank accounts, causing them to get their money by traveling to the banks in person. As a result, COVID-19 spread in the long lines people waited in.
The Impact of COVID-19 on Iquitos
One city that the impact of COVID-19 on poverty in Peru most affected is Iquitos, a port city on the Amazon river that many refer to as an island. Many believed the pandemic would not reach the island because of how secluded it is from the mainland. However, unfortunately, COVID-19 reached Iquitos, and it did not have the proper equipment to treat people for the virus. The Loreto Province hospital consisted of 12 ICU beds, but it used seven of them as designated COVID-19 treatment beds. "By mid-May of 2020, that hospital was on the verge of collapse." With increasing COVID-19 cases, hospitals began to use army cots to treat virus-infected patients.
The Challenges of Acquiring Supplies
Peru struggled with the pandemic because it did not produce its own medical supplies, causing it to rely on imports. When the pandemic first began, every country wanted to stock up on surgical face masks, ventilators and protective equipment to protect their citizens and stop the spread of COVID-19. Because of this, Peru had to compete against wealthy countries, such as the United States. However, it did not have the money to do so. Without any of the proper medical equipment, Peruvian doctors continued to help their COVID-19 patients any way they could. Unfortunately, the staff at the hospital worked long shifts with a single mask, causing many of them to get sick.
A Catholic priest and physician, Raymond Portelli, posted a request for donations on his Facebook page to invest in an oxygen bottling plant when he realized oxygen was the pivotal treatment to reduce the impact of COVID-19 on poverty in Peru. Portelli's fundraiser succeeded, which led him to buy four more plants for Iquitos. Moreover, "Peru also lacked the stable political leadership needed to address the crisis at home and negotiate for medical supplies from abroad." According to Mariana Leguia, an infectious disease expert, Peru had four presidents in 2020. This made it impossible for the government to act on the medical, economic and social crises.
Garnering Vaccines
Although the FDIC has approved a COVID-19 vaccine for people 5-years-old and older, Peru's vaccination rate is only 4%. "Peru has secured enough doses to vaccinate its population," but it is waiting for the delivery of the vaccines to reach its country. Once Peru receives the vaccines, it will need to keep them at the correct room temperature. Luckily, UNICEF is helping ensure careful distribution of COVID-19 vaccines by "bolstering Peru's cold chain capacity," which includes social freezers and refrigerators. So far, UNICEF has provided Peru with 1,100 solar-powered freezers to store the vaccines.
Lastly, the World Bank Board of Directors allocated $68 million in loans to help strengthen "epidemiological surveillance and response capacity to public health emergencies in Peru." By doing this, hospitals will be able to detect any new COVID-19 cases in a timely manner, helping them have a better response system towards any health emergencies. To add, in July 2021, the United States government decided to provide Peru with $36 million to afford new resources and 2 million doses of Pfizer-BioNTech vaccines. By doing this, the United States will help Peru's emergency efforts reduce the spread of COVID-19.
The impact of COVID-19 on poverty in Peru led to people not complying with lockdown restrictions because they needed to continue working to survive. Luckily, UNICEF, the World Bank and the United States are providing COVID-19 relief to stop the spread of the virus in the country.
– Kayla De Alba
Photo: Flickr
https://borgenproject.org/wp-content/uploads/logo.jpg
0
0
Jennifer Philipp
https://borgenproject.org/wp-content/uploads/logo.jpg
Jennifer Philipp
2022-01-18 01:30:37
2022-01-16 01:58:41
The Impact of COVID-19 on Poverty in Peru