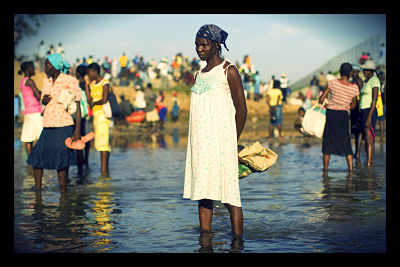 The following is not a definite plan for how to solve poverty. There are many causes and factors to consider that promote and sustain impoverishment, thus there are also myriad of solutions. By embracing all possibilities related to global education and technology, we can put a sizable, irreparable dent into poverty.
How to Solve Poverty
Education for women: 70% of all women in the world live in poverty, and over 32 million women are considered "missing." Poor health conditions, famine, and social injustice contribute greatly to the problem. Women work some of the most difficult but crucial hours worldwide, yet earn pennies on the dollar for their effort. This leads to desperation and informal employment which opens the door to problems like human trafficking. When women receive education, the results are indisputable: lower fertility and infant mortality rates, less instance of sexually transmitted disease, and a greater chance of employment and contributions to local economies. The benefits of female education are much broader than male education.
Using Positive Deviance: Somewhere in every community lives a person or a family that is not poor for a reason. Finding those positive deviants in the community and letting others around them learn from their experience is becoming a very popular approach in places. Lewiston Elementary in Utah is one of 300 schools to be nationally recognized for outstanding academics, despite the fact that half of their students are poor and 10% speak English as a second language. The kids consistently exceed what is expected of them all due to how they are taught, which includes, "…small group instruction; an evidence-based reading curriculum; progress monitoring; parent involvement; and instructional coaching." Other schools have begun to take note of Lewiston's success.
Entertainment Education: One might not immediately see the correlation between entertainment and poverty, but when considering impoverished or uneducated children, it becomes highly apparent. Education is clearly a poverty deterrent, thus using the media to promote education in communities in ways that will entertain can have major impacts. A well known example of this is the television program Sesame Street, watched the world over by young, hungry minds. Other prosocial programs and themes have been used with great results in the developing world, ranging from simple radio programs to a project called Soul City which has been running in South Africa for years. One organization leading the way with entertainment education is Population Media Center.
– David Smith
Sources: Women and Poverty, Learning The Lessons of Sesame Street
Photo: Infosur Hoy
https://borgenproject.org/wp-content/uploads/logo.jpg
0
0
Borgen Project
https://borgenproject.org/wp-content/uploads/logo.jpg
Borgen Project
2013-08-02 05:55:11
2016-10-26 15:09:36
How to Solve Poverty