Hospitals Empower Women Amid Conflict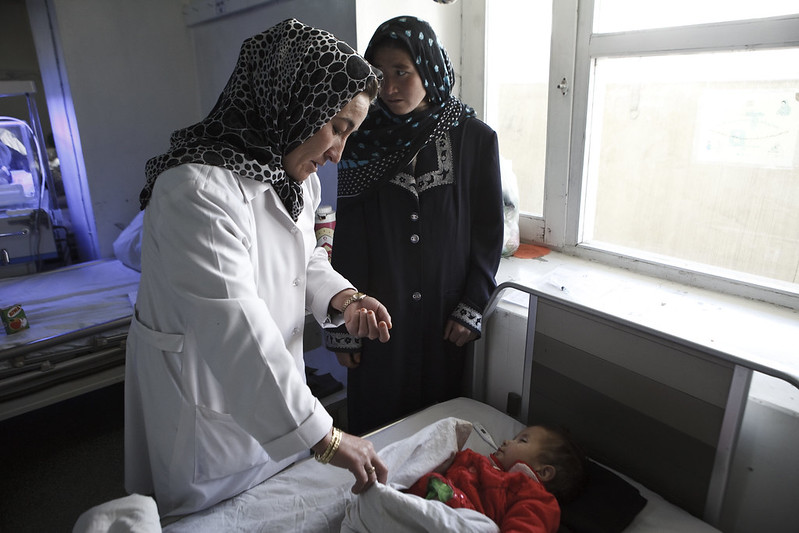 Amid ongoing crises around the world, hospitals help women deliver babies and maintain good reproductive and sexual health. Supporting hospitals in conflict-ridden countries empowers women and can drastically reduce maternal mortality rates. In Afghanistan, maternal mortality rates have reduced by more than 50% in the past 20 years due to advancements in public health infrastructure. Hospitals empower women amid conflict by providing lifesaving support to new mothers and women of all ages.
Conflict-Ridden Areas
Hospitals and clinics in conflict zones save lives every day, in areas ranging from maternal care to helping the sick and wounded. When conflict strikes, though, medical care facilities experience difficulties procuring medicine, equipment and supplies. The hospitals and clinics may also struggle to maintain a steady supply of fuel and heating. Non-governmental organizations (NGOs) often help hospitals and clinics in conflict-ridden areas obtain supplies.
In 2021, the United Nations Population Fund (UNFPA) provided two hospitals in Afghanistan with emergency kits containing medicine and equipment to support the "reproductive, maternal and newborn health needs" of more than 300,000 people. In combination with NGO efforts, governmental investments in hospitals and other public health infrastructure are necessary to ensure adequate medical care in conflict zones, especially for women. Well-funded hospitals empower women amid conflict by safeguarding their reproductive health and ensuring safe deliveries.
Health Care for Women
Conflict zones make it difficult for women, children and newborns to access health care. For example, the war in Yemen has prevented many women and children with health emergencies from accessing medical facilities. Limited access to medical care for the Yemeni people has led to an increase in deaths, leaving pregnant women, newborns and children the most vulnerable.
Developing countries are unlikely to have enough fully functioning hospitals to support everyone's medical needs, especially in times of conflict. Many patients in conflict zones must travel through dangerous sites to receive medical attention from a hospital. Such endeavors are particularly dangerous for pregnant women and women traveling with young children. High-functioning, accessible hospitals are highly beneficial to public health and safety in times of conflict, especially for women and newborns.
Improving Health Care in Conflict Zones
Improvements to health care in conflict zones may involve public and private coordination, addressing context-specific needs and developing sustainable responses to medical emergencies. Public and private coordination efforts may include governmental bodies, humanitarian organizations and other global public health actors including the World Health Organization.
When public and private actors collaborate, the efforts can provide optimized health care to those in need. Context-specific health care initiatives tailor medical care and responses to the most common or urgent needs of a community. Such initiatives involve speaking with local actors and communities to gauge their medical needs. States can improve health care sustainability in conflict zones by improving existing health systems, securing funding and prioritizing the treatment of chronic illnesses.
Robust medical systems are necessary to promote health, safety and peace in conflict-ridden areas. Access to health care is particularly important for pregnant women and newborns as these are highly vulnerable groups in conflict zones. Hospitals empower women amid conflict by providing access to maternal and reproductive health care, which saves lives and ensures safe pregnancies.
– Cleo Hudson
Photo: Flickr
https://borgenproject.org/wp-content/uploads/logo.jpg
0
0
Jennifer Philipp
https://borgenproject.org/wp-content/uploads/logo.jpg
Jennifer Philipp
2022-05-21 01:30:05
2022-05-23 05:20:37
Hospitals Empower Women Amid Conflict