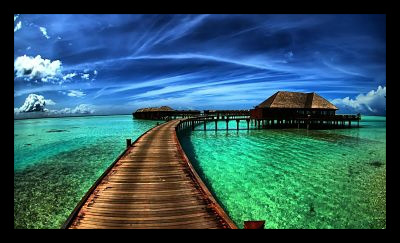 The Caribbean has and will continue to be one of the most visited vacation spots. The beaches of Puerto Rico, the Bahamas, and Jamaica remain quintessential examples of the perfect island getaway with clear blue waters and continuous sunshine. One country, however, has fallen off its throne as a Caribbean hot spot: Haiti. Haitian Vacation has become one of the destination for people.
Along with the homes and lives the 2010 earthquake in Haiti swept away, it also took away the luxury and lure that once attracted tourists from around the world. Recently, however, the Haitian government has been focusing its efforts on revamping the country as a vacation spot. President Michel Martelly boasts of the dynamic music and the yearly celebration of Carnaval. "It's probably the worst organized Carnaval…but it's the best Carnaval…it's fun, it's crazy." He is not blind to the issues facing this new campaign. The streets in and around Port-au-Prince are in horrible condition. Security warnings alerted visitors of the lack of medical care, high risk of kidnapping and theft, and overly expensive hotels.
Despite these issues, Martelly seems to be focusing on what the Haitians have been able to hold onto since the earthquake: their culture. Although it will take some time to establish basic amenities and safe traveling, tourists still have many reasons to visit Haiti. Many of the beaches offer the ultimate seclusion and beauty. For Stephanie Villedrouin, Haiti's minister of tourism, visiting Haiti can actually serve as the best form of humanitarian aid. "Don't just send money through a wire or through an NGO for us. Come and experience Haiti because we have so much to showcase." It may be an extremely inappropriate time to use this phrase but in essence, people can kill two birds with one stone. The first bird being experiencing the island lifestyle and the second, but most important bird, knowing that every dollar you spend is going towards improving the country's economy. Yes, even that delicious Piña Colada is in some way helping save a life and revive a once broken country.
President Martelly doesn't seem to mind using the appeal of Haiti's current situation to attract new tourists. And why should he? It is not a secret that Haiti has a long way to go, but being upfront about it all may ease the worries people have. The most noteworthy aspect of this entire campaign is that Haiti is using its natural and preexisting resources to revive itself. Yes, the revenue is coming from travelers, but the main point is that it is an internal effort on behalf of the Haitian people that are drawing them to the island.
The ministry of tourism, however, must prevent touristic spots from becoming too secluded and overprotected. The Royal Caribbean liner "Allure of the Seas" is ported in clear visibility to the struggling Haitians only a few miles away from the docks. The area is completely fenced off, limiting tourists' interaction (read: spending money outside the private beach) with the rest of Haiti. Even worse, it eliminates the opportunity for many local vendors to reach a new market, especially for those who are not able to be 'pre-screened' by the government and Royal Caribbean. Although praised as a multi-million dollar source of revenue for the government and for building a local school, Royal Caribbean must seek to incorporate the entire surrounding area and give Haitians the opportunity to work alongside them.
All the work cannot be done by external sources though, and the Haitians must come to realize this quickly. One cannot begin to understand the daily obstacles and hardships they must go through to make a living, let alone survive. As much as the appeal of adventure and exploration of a third world country may entice some visitors, there can be no denial that most vacationers are not going to visit a country with "gray sludge overflowing from open sewers, piles of trash burning in ditches…[and] roads pocked with jagged potholes". With what little energy and must are left, the Haitian government must figure out these glitches. Once the city becomes presentable, a Haitian vacation will no longer be based on sympathy but a true desire to experience a wonderful culture and its breathtaking beauty.
– Deena Dulgerian
Source:npr
Photo:Paradise in the World
https://borgenproject.org/wp-content/uploads/logo.jpg
0
0
Borgen Project
https://borgenproject.org/wp-content/uploads/logo.jpg
Borgen Project
2013-02-02 20:28:22
2020-05-07 22:43:12
Haitian Vacation