5 Ways Countries Are Helping the Environment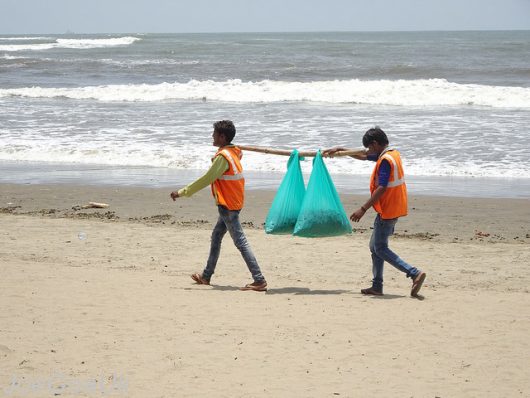 There was international outrage when President Trump withdrew the United States from the Paris Climate Agreement in June. But some of the countries most affected by climate change are still making commitments to protecting the planet. The Borgen Project highlights five ways developing countries are helping the environment.
1. Preventing Plastic in the Pacific
At the recent U.N. Oceans Summit, four developing Asian nations pledged to keep plastic out of the ocean. More than eight million tons of plastic are dumped in the ocean every year. But that number may drastically shrink now that China, Indonesia, Thailand and the Philippines have pledged to protect the Pacific from plastic. These nations are some of the biggest contributors to plastic pollution. The Helmholtz Center in Germany estimates that reducing plastic loads in ten Asian rivers could reduce global plastic pollution by 37 percent.
2. Beach Clean-Up
Over a period of two years, local volunteers performed the "world's largest beach clean-up" on Versova Beach in Mumbai, India. Lawyer and environmentalist Afroz Shah led the effort. Over the course of twenty-one months, he and the volunteers collected 5.3 million kilograms of decomposing trash, cleaned 52 public toilets and planted 50 coconut trees. Thanks to this grassroots effort, Versova Beach has been completely transformed.
3. Environmental Education
The Cloud Forest School in Monteverde, Costa Rica serves local students from pre-school through eleventh grade. In addition to providing the students with a bilingual education and financial aid, the Cloud Forest School teaches a curriculum of environmental sustainability. By providing the tools and knowledge to address environmental issues, the Cloud Forest school prepares the local population to care for the environment at home and at the global level.
4. Community-Led Conservation
Somali conservationist Fatima Jibrell engages local African communities in conservation efforts and addresses the populations' needs from within. For example, to protect acacia trees in Somalia, she provided solar cookers to use instead of charcoal from the trees. Her organization, African Development Solutions, has employed over 120,000 African people in environmental work through its cash-for-work program. Jibrell is one of the most prominent African conservationists and has received many international awards for her earth-saving efforts.
5. "Greening" Latin America
Latin America is the most biodiverse region in the world and one of the most vulnerable to climate change. Because of this unique position, many Latin American leaders and environmental activists have taken up efforts to reduce Latin America's environmental damage. These initiatives include reducing urban emissions through public transportation in Brazil and bike sharing in Argentina. They also include protecting forests and designating national parks in Argentina and Costa Rica. Costa Rica has even set the impressive goal of becoming carbon neutral by 2021. These are a few of the ways the world's most ecologically impressive area has committed to staying that way.
Developing countries are the most at-risk for the hazards brought on by climate change, and many are already feeling these effects through floods, droughts and natural disasters. There are many ways developing countries are helping the environment already, but environmental issues are international threats that require a global response.
– Bret Anne Serbin
Photo: Flickr
https://borgenproject.org/wp-content/uploads/logo.jpg
0
0
Borgen Project
https://borgenproject.org/wp-content/uploads/logo.jpg
Borgen Project
2017-09-14 01:30:20
2020-07-09 07:55:43
5 Ways Countries Are Helping the Environment