5 Facts about Education in Niger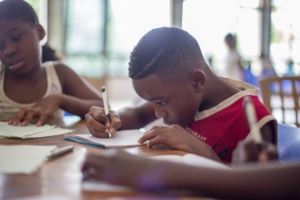 The country of Niger has been fighting a war against poverty for years. In 2021, the United Nations named Niger the least developed country in the world, with 42.9% of its population earning less than $1.90 per day. As the country's economic state has worsened, so has its education system. Children are unable to learn due to financial disparities and geographical disadvantages and are not receiving the level of education and social interaction that they need. Here are five facts about the realities of education in Niger.
5 Facts about Education in Niger
More than 50% of children between the ages of 7 and 16 do not attend school. Meanwhile, the preschool enrollment rate sits at only 7%. These statistics are the results of food insecurity, extreme poverty and inadequate access to schools. One of the greatest barriers to education in Niger is hunger, as children are not able to attend school for weeks at a time due to malnutrition. While schooling in Niger is compulsory, many areas do not have educational facilities to accommodate children. Too many students live much too far to walk to school, and some families do not have enough money to purchase a car to get them there.
As of 2020, the Government of Niger only spends 3.8% of its GDP on education, according to the World Bank. This low percentage is indicative of a lack of investment in the education of Niger's youth. Niger continues to rank close to the bottom on the United Nations Development Programme's Education Index but, since 2015, has spent less than 4.5% of its GDP on education.
The literacy rate in Niger is only 13.6%, one of the lowest in the world. Less than 8% of children have acquired adequate numeracy and literacy skills by the end of primary school, and only one-third of teachers demonstrated satisfactory competency levels in 2017. Education in Niger demonstrates favor toward the men of the population, as the literacy rate for males ages 15-24 is higher than those of women in the same age group by more than 10%.
Access to and completion of education is worse among minority groups in Niger, such as girls living in rural areas and children with physical and mental disabilities. Only four out of 10 girls make it as far as the sixth grade before dropping out due to financial or familial difficulties. In addition, the country's lack of adaptive classrooms and inclusive training means that schools are not meeting the standard of education that students with disabilities need in order to succeed.
The impacts of COVID-19 worsened the challenges that the education system in Niger was already facing. In addition to the 2.5 million children who were already being deprived of an education, 3.6 million children had to leave school, and few had the resources to participate in virtual learning. More than 80,000 teachers ended up out of a job, and dropout rates began to increase. The closure of schools in Niger has had a very negative impact on students, and many are still recovering from the financial and educational setbacks that their families have suffered.
UNICEF continues to advocate for more accountability of Niger's government, urging them to allocate more funds toward education. In July 2020, the Global Partnership for Education donated $70,000 to Niger to help it recover from the pandemic, which will go toward drawing up a plan to rebuild and redefine education in Niger. Organizations around the world are acknowledging the disparities in Niger's education system and are working to provide a stronger foundation for students.
– Ava Lombardi
Photo: Flickr
https://borgenproject.org/wp-content/uploads/logo.jpg
0
0
Saiesha
https://borgenproject.org/wp-content/uploads/logo.jpg
Saiesha
2022-08-08 12:03:12
2022-08-10 01:13:48
5 Facts about Education in Niger