Engineers Without Borders Creates Accessible Drinking Water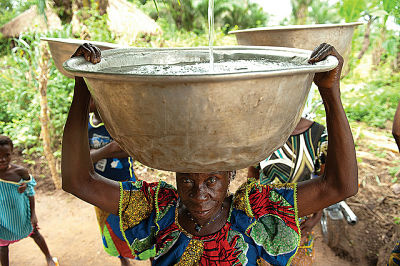 Engineers Without Borders (EWB) is an organization of 16,800 volunteers who hope to give worldwide communities the opportunity to sustainably meet basic human needs. They install footbridges to accommodate travel, solar panels to facilitate energy and light and, in a world where one in 10 people don't have accessible drinking water, Engineers Without Borders is implementing technology that can help. Here are six places where EWB is bringing water to those who need it most.
Cyanika, Rwanda
This northern community rests near the country's border with Uganda, and for many villages, the closest accessible drinking water is kilometers away. Women and children make multiple trips to collect water, and when they arrive they must pay for their water, often leaving them with the decision of choosing between hunger or dehydration. They wait in line, sometimes only to realize that the well is dry. Engineers Without Borders has installed three unique community rainwater catchment systems, two single tank systems and one system of four tanks in the larger town of Munini. In Gasebeya and Nyarotosho, the single-tank systems save an average of 11 hours that would usually be spent collecting water. The saved time leaves community members with opportunities for raising more livestock and developing more income, and the saved income and time also means that they can maintain the systems on their own.
Mugonero, Rwanda
Along the western border of Rwanda, Mugonero was hit incredibly hard by the 1994 genocide, with 3,000 people killed in the community. Rebuilding continues slowly but surely in this small community accessible only by a small dirt road of switchbacks. Engineers Without Border worked with L'Esperance, a local NGO in Mugonero, and despite the NGO closing in 2013, EWB's efforts in the region have been maintained for years and continue to benefit the community. Engineers Without Borders installed three rainwater catchment tanks, a UV water treatment system and an irrigation system that drastically improved the conditions of accessible drinking water.
Amayo, Nicaragua
In Nicaragua, 800,000 people do not have access to safe drinking water, leaving 37 percent of rural communities reliant on contaminated sources. EWB partnered with Potters for Peace, a U.S. nonprofit that uses clay pottery techniques to create water filters, to install 30 water filters. Accessible clean water means safer health conditions for the community, which uses the clay filters for both drinking and cooking. In addition, Potters for Peace educated locals (often rural women) on how to reproduce the water filters. This element of community engagement left Amayo highly self-sufficient and far healthier.
Jinotepe Hogar de Ancianos, Nicaragua
The Hogar Board of Directors, a local municipal body, benefitted from the reserve water system installed in Jinotepe by gaining the respect of their community. The reserve uses gravity in a 2,500-gallon tank to bring a fresh water supply to the community. Unfortunately, the tank itself has been in need of repairs since 2015, but the community feels that the current emphasis on health and the faith in the Hogar Board would be impossible without the EWB project. Accessible drinking water is now a priority of the community, thanks to the (albeit temporary) system provided by EWB, and the Board of Directors has a new confidence and dedication to provide it. Funding will remain a challenge.
Pueblo Nuevo, Nicaragua
Reaching clean water required long and frequent trips for the community members of Pueblo Nuevo. Engineers Without Borders cite the benefits of their integrated water distribution system as providing men with more time to tend to crops, children with more time to make it to school, and women with the liberation from five to six daily trips to the river. The distribution system does rely on rainwater, and so the impact it has can vary from serving 150 to 350 people. It pumps water from a hand-dug well to a holding tank, which then is distributed to three different districts. The rationing and maintenance required to benefit from the distribution system mean that the community has not only benefited from increased accessible drinking water but from increased community organization.
Guatemala
Seventeen projects are in the "implementation" phase in Guatemala, and 15 are considered "complete," but most are still under review to evaluate their impact. The involvement of Engineers Without Borders in Guatemala is incredibly concentrated on potable water projects. These efforts comprise 58 percent of EWB's Guatemala Project. At least five systems are considered functioning, each reaching between 350 and 1,500 people depending on the size of the community. The largest system involves 26 kilometers of pipe, and the projects have brought flowing water to every tap in the community. In addition to putting this infrastructure in place, the Guatemala projects focused on whether it was necessary to introduce a circuit rider (water technician) to the community to maintain the system. As implementation continues with new systems, Engineers Without Borders has placed an emphasis on training for pump maintenance, so that Guatemalan communities can be self-sufficient and continually have accessible drinking water.

– Brooke Clayton
Photo: Flickr
https://borgenproject.org/wp-content/uploads/logo.jpg
0
0
Borgen Project
https://borgenproject.org/wp-content/uploads/logo.jpg
Borgen Project
2017-07-06 07:30:42
2020-05-15 20:39:52
Engineers Without Borders Creates Accessible Drinking Water